This delightful property is brand new for Summer 2020. A three bedroom, mid-street house, expertly renovated and furnished to our 5* standard. With an open plan living, kitchen and dining space it's the perfect house to bring all the family together. With on-street parking directly outside the property and local amenities just a short walk away the property is the perfect answer to a stress free break by the sea.
Trip Details
Property Highlight #1
Dog Friendly Getaway
Montrose View is dog friendly so you can bring your dog along for your family holiday in Saltburn-by-the-Sea.
Property Highlight #2
Open Plan Space
On the ground floor, you'll find a spacious open plan living, kitchen and dining area. Ideal for socialising and entertaining, this space is ideal for the whole family to enjoy time together.
Property Highlight #3
Outside Space
To the rear of the house, you will find a well-kept garden and patio area. As the sun rises in the morning, enjoy a cup of coffee looking towards Huntcliff.
The Space
Montrose View is a spacious home that brings bold colours and luxury furnishings together in one place. The ground floor of the house is made up of an open plan living, dining and kitchen area.

The living room is filled with light bursting through the bay window. Home to an electric blue fabric four-seater sofa and a studded, Chelsea style bucket sofa perfect for two the living room has space for all guests to get comfy . Above the traditional cast iron fire place sits a large flat screen TV fitted with Virgin and Freeview channels. Bright yellow cushions and faux plants add a pop of colour to the space.

With an L-shaped kitchen over two levels you will find everything you need for your staycation. With deep blue units, a marble style worktop and copper highlights this space brings a modern take on Victorian styling.

The dining area is positioned in front of a large window overlooking the garden and a patio area. You can comfortably seat six people around the oval shaped dining table, with high gloss metal chairs.

Just off this open plan area is the downstairs WC and cloakroom.

The first floor comprises of three bedrooms and the family bathroom.

The master bedroom is at the front of the house and benefits from a large bay window, king-size bed, a vanity area and wardrobe and drawer space. The soft tones of beige and blush make this room a calm an feminine room.

The second bedroom is a double room to the rear of the property. With a teal fabric double bed and mango wood furniture. Enjoy a cup of tea and views out to Huntcliff from this bright and light bedroom.

The third bedroom has two single beds in the form of bunk beds. The octopus artwork in this room comprises of contrasting colours which gives this print a cool detail, it fits perfectly in this minimalistic space.

The family bathroom is a simple and modern space. Comprising of a WC, basin and a power shower over bath. With spotless metro tiles and black accents throughout this monochrome space is perfect for a morning shower or relaxing evening soak.

To the rear of the property you will find the well-kept garden and patio area. As the sun rises in the morning, enjoy a cup of coffee looking towards Huntcliff.

Host & Stay are committed to our owners that their homes are protected during bookings. For this reason, we require all of our guests to transfer a £250.00 Damage Deposit (subject to a £10.00 administration charge) or, to purchase an Accidental Damage Waiver for £25.00 which will cover you for up to £500.00 of accidental damage during your stay.
Neighborhood
Montrose View is located in the charming Victorian Spa town of Saltburn-by-the-Sea on the North Yorkshire coast.
The house is only a short walk to the centre of town, where you'll find restaurants, cafes, bars and independent shops.

Take the oldest functioning cliff lift in the UK down to the promenade and you'll arrive at the 208-metre pier which stretches out into the sea. The long sandy shores are overlooked by colourful boutique beach huts and high cliffs tower in the distance.

Saltburn has plenty of beautiful walks too. The Valley Gardens are a maze of paths and tracks which wind through the flowers and woodland. If you want to explore further, The Cleveland Way National Trail is over 100 miles long and the lovely Saltburn is featured. If you fancy a 17.5 mile jaunt, start at Saltburn and walk your way to Sandsend. This walk is a great way to explore the North Yorkshire coastline and the views are beautiful!
Getting Around
Montrose View is within 30 minutes' drive time of Staithes, Whitby, Middlesbrough and the North Yorkshire Moors.

Saltburn Train Station is a 5-minute walk away and has routes to Longbeck, Redcar, Middlesbrough and Darlington with connecting trains to Newcastle, York, Leeds, Manchester and London.

There are plenty of bus routes throughout Saltburn. Hop on the Arriva North East route and you can visit beautiful coastal villages like Staithes, Runswick Bay and Whitby. The Moorsbus route has drop offs at Newton Under Roseberry, Great Ayton, Stokesley and Helmsley.
Pets allowed
Suitable for children (2-12 years)
Suitable for infants (under 2 years)
Free parking on street
Smoke detector
Carbon monoxide detector
First aid kit
Family/kid friendly
Bathtub
Wireless Internet
Internet
Hot water
TV
Heating
Toaster
Towels provided
Kettle
Kitchen
Microwave
Oven
Bed linens
Coffee maker
Cookware
Laptop friendly workspace
Dishes and silverware
Flat smooth pathway to front door
Garden or backyard
Hangers
Hair dryer
Iron
Refrigerator
Stove
Cable TV
Dishwasher
Private entrance
High chair
Guests have access to the full property. The keys to the property are accessed via a secure key safe and full details will be provided shortly before your arrival date.

There is on-street parking directly outside the property.
Check-in: 16:00
Checkout: 10:00
From the guestbook
4.45
(65 Reviews)
Eric W.
19/10/2023
Property very nice. A blind in the main bedroom to block. out the street lamp would light is needed
LLTTF1
10/09/2023
Complaint We stayed at 33 Montrose View Saltburn-by-the-Sea on Sea from the 2nd - 9th September 2023. When we arrived, we were shocked and so disappointed with the state of the house. It was extremely dirty and not the standard we expected. We contacted yourselves and were offered another clean for the following day but we had to clean it before we settled in and unpacked, so we cleaned it ourselves. Listed below with attached photos are the many issues we had with the property: - Floor extremely dirty including dog hairs and muddy footprints - Sofas both dirty with crumbs, dust and dog hairs that had obviously not been cleaned - All drawers, specifically kitchen dirty with old food and dust - All tables and surfaces dirty, shown in the photos attached when actually cleaned with products we brought ourselves - Marks and dirt on walls throughout house - Marks on the bath tub from old nail varnish that had not been cleaned - Shower screen dirty and broken and dirty - Both dirt marks and dog hairs on bed and bedsheets - Kitchen bin didn't close - Fridge missing shelving and salad box - Washing machine drawer was dirty - Freezer was iced up and dirty - Carpets throughout were very dirty - Only One bin bags provided for the whole week and no cleaning products provided - 1 tea towel within the house house - No washing line - No welcome pack or milk provided, only sachets - House stated for six people, yet only 2 seats for outside and 4 place mats - No curtains in bedrooms, which meant street light shines into the rooms throughout the night We are honestly disgusted and so disappointment with the state of the house, it has had a massive impact on our one holiday for this year as a group of NHS workers that rarely get time off together. We paid £30 in cleaning products that we had to buy to clean the house ourselves to ensure we could stay and feel comfortable for the week. We will not be booking with host and stay again. Surly the cleaners report back to you about issues they find ?? Or maybe they don't and that case you need to change your cleaning agency.
Anna
28/08/2023
Excellent property. Lovely area. Would definitely stay again
Kitchen
06/08/2023
Excellent location.<br/>Clean, spacious property with excellent facilities <br/>Secure garden for our dog<br/>Excellent communication with booking company
Rowena
26/01/2023
Nice and quiet.<br/>Bedrooms where nice .<br/>Lacked the fine detail you would expect in a luxury property. <br/>Lots of dust on surfaces , springs sticking out of sofa. Fire didn't work, took about an hour to work out TV . No glasses for water , no hand towel, fan or window in bottom toilet. Holes in some of towels. <br/>Directly outside bedroom window was a street lamp with no blackout blinds it was very bright .<br/>We have stayed at a other host and stay place and it was amazing so slightly disappointed with this property.
Micheal
23/01/2023
Besides the below. It is a great house clean, tidy all the upto date extras. Nice place to relax after a days activity. Located in a quiet part of the town. 10 mins to walk to the high St in the town. A little bit further if going to the beach down the hill but not much.<br/>Road facing windows require curtains due to the very bright street lamp. Was like daytime going to bed. Also the top opener on one of windows in the large bedroom won't close properly as we found out due to the wind blowing through it. Nearly blew the duvet off the bed ? it was blowing a gale mind. Someone obviously had the same issue prior to us as the the window gap was full of tissue paper. One other thing was the router kept losing connection to the smart TV but Virgin TV was ok throughout once we worked out how to connect through the source input. Not explained correctly in the help leaflet.
David
13/12/2022
not clean, items under bed, inappropriate and not happy.
Andrew
04/12/2022
The house was cosy enough and nicely finished. However:<br/>-there is a street light directly outside the front bedroom windows, which are illuminated at night and impact sleep. The blinds are inadequate and blackout curtains are a must.<br/>-the paint work on the walls, especially the stairs is scuffed and needs repainting.<br/>-a cushion on one of the sofas needed reupholstering as the springs had punctured the casing.
Nicola
31/10/2022
It was clean throughout and in a good location.
Christopher E.
24/10/2022
Fahmida
23/10/2022
Great property at good value. Convenient location, short distance from the station, beach and all the cafes. House itself was tastefully decorated and all required amenities provided. Definitely recommend.
Linda
09/10/2022
Very clean, spacious and comfortable. Also very quiet neighbourhood.<br/>Nothing. Everything was excellent.
Rob
02/10/2022
A lovely little house in the centre of Saltburn By The Sea. The property is warm and cosy, and even in October was bright and sunny. The facilities were clean and modern, and the beds were comfortable, with crisp white bed linen. Check in was easy via the key box outside of the front door.
Marc K.
24/09/2022
Great property in a good location
Sheree
23/09/2022
Lovely, clean and comfortable. House presented beautifully and kn arrival there was milk in the fridge which was a lovely touch.<br/>There wasn't anything we didn't like the only thing I would say, there's an ironing board but no iron. A lovely lady over the road lent us her iron as we were staying for a wedding.
Natasha
19/09/2022
Karen
10/09/2022
Nicely decorated and well furnished. Good size kitchen and well stocked. Good size hedrooms and <br/>Nice linen. Homely feel. Very quiet road. Would recommend<br/>Light not working in living room, sofa springs broken on sofa by window. Cleanliness overall very good except for shower screen door at bottom which was filthy. Lots of daddy long legs (not their fault!)
Hilary
02/09/2022
Smart house nicely furnished , back yard with seating a bonus , location very good<br/>The iron needs replacing as it doesn't work and kitchen needs some additional glassware ( tumblers) <br/>Black out blinds would help in the front bedroom
Laura
21/08/2022
Location and decoration were fabulous. We'd seen previous reviews commenting on poor maintenance and cleanliness though, and were disappointed that these issues hadn't been addressed. Also think there really do need to be better window coverings as per previous reviews, and outside furniture to make the most of the yard.
Mrs
21/08/2022
Location to the main town centre, lovely quiet street. Beautiful beaches, plenty of eating places<br/>Bedrooms comfortable.<br/>On arrival everything seemed good but on closer inspection, the walls leading upstairs were scuffed and marked. Dust on the back of the blue sofa, and under the coffee tables in the room, the cupboard inside the downstairs toilet was off the hinges...."dust" was wrote on top of the cooker hood. Very large cobwebs at the side of the sofa where the lamp was. The outside area wasn't welcoming at all and only had two chairs for the 4 of us.<br/>Blue sofa in the room looks fantastic but it's very uncomfortable and the grey sofa is shockingly uncomfortable with a big spring sticking up. <br/>PLEASE GET BLACK OUT BLINDS, the shutters in the bedrooms do nothing at all. And there is a bright street light right outside the front bedroom window. <br/>Wasn't happy with the cleaning service and I did write this on the app under first impressions but I never heard anything back from anyone. <br/>When paying £921 for 5 days we definitely expected more. <br/>We as a family have booked with booking.com on plenty of occasions but this property was a bit of a let down I'm afraid.
Gareth
14/07/2022
Yvonne
10/07/2022
Excellent location close to the town centre. Property was lovely and had everything we needed.
Samuel
07/06/2022
this is a great option for staying in saltburn. not too far from the beach and was a preferable layout in the living area when we were looking at options. when arriving we loved the layout of the living space. its really spacious. think I read cramped kitchen somewhere in another review but that is not the case! simple check in and great communication, which we always appreciate. very well equipped would return unless budget can stretch to a sea view!<br/><br/>things to improve on:<br/>- garden furniture would make the yard actually usable, it's a nice little space<br/>- WiFi connection to the TV didn't work so you can't use Netflix and prime etc<br/>- we mentioned needing a travel cot and someone said we might be charged call out charge as wasn't included on booking. I don't think there were notes with the booking saying we would need to mention about this so might be our fault. they didn't charge call out charge though and it was there on arrival<br/>- mattresses we think need replacing in the two main bedrooms, both had a bit too much bend in them. not good for a front sleeper (while I am!)<br/>There is too much light without good curtains so when the sun is up you are up!
Joanna Gaba
02/06/2022
We had a fantastic time in Saltburn. Wonderful place, surrounded by nature, fantastic beach,, and just a 25-30 mins drive from Whitby. The property is big, furnished with a lot of love with details, kitchen well-equipped. It has everything you need. The added bonus is a lot of parking space. Sparkling clean. Recommend.
Irene C
20/05/2022
The house was immaculate with everything provided and only minutes away from lovely beaches. Pet friendly
Franca
15/05/2022
We know the area as I grew up nearby, parking on road but not an issue, property was cold on arrival but warmed up quickly when we turned the radiator up. Bin in kitchen was broken, had been broken at least 2 weeks as my sons stayed there 2 weeks previously. No kitchen towel or towel in downstairs bathroom but as only 2 of us we were able to use other towels. Bathroom nice but extremely compact! Property was fine for 2 but would be cramped with 6 people. Could have made better use of limited outside space.
Fiona
02/05/2022
Modern, stylish and cosy place within walking distance of lovely Saltburn. Easy check-in/out. We would definitely return - thanks for an excellent stay!
Richard
19/04/2022
This is a great place to stay, plenty of room for a family to be comfy.<br/>Parking is easy enough.<br/>Be prepared for a steep walk up and down to the beach though, my advise is to book a taxi back up from the bottom or plenty of pit stops.<br/>There are shops very near by too which is a bonus.
Antony
03/04/2022
Lovely property close to shops and the beach- had a lovely stay
Christine
13/03/2022
Great place - very well decorated and set up. It is spacious and had everything we needed to stay and cook in the property. As with all Stay's properties - the decoration is lovely. Fantastic communication as always. We enjoyed our stay and would stay again here.
Molly
28/02/2022
The house was exceptionally clean and felt like a really lovely place to be. It was beautifully decorated and presented. Fully equipped kitchen making for a smooth stay. We had a fantastic time and hope to stay again!
Kathie
18/02/2022
A really lovely place to stay albeit a bit windy in the front bedroom due to the storms.<br/>Would 100% recommend!
Louise
14/02/2022
Great location. Very clean. Lovely decor and furnishings. quiet street. Great on street car parking - parked right outside the house<br/>nothing
Daniel
03/01/2022
A lovely well presented accommodation with some personal character in an ideal setting. The accommodation is a extremely convenient 5 minute walk from the main town and pier area.<br/><br/>Our family brought our dog on our trip and we would recommend this accommodation for any other famil8es with pets. The house was well laid out with a decent sized back yard/garden which was more than suitable for any dog owners.
Oliver
29/12/2021
We had a lovely stay over Xmas period! Great location for all the fam to enjoy.
Lee
29/10/2021
The house is perfect, clean, comfortable and easy to find.<br/><br/>The only complaint is the master bedroom is directly outside and adjacent a street lamp (2M away), it has no curtains and only poor fitting wooden blinds meaning the room is bathed in artificial light throughout.
Lucy
11/10/2021
Very clean and modern great loaction<br/>No tea towels or bin bags are bins weren't outside so couldn't empty inside bin.<br/>Legs in spare bedroom bed broke so couldn't use, no blackout blinds in bedroom- there was a street light DIRECTLY outside bedroom window so was very light in the room all night.
John
10/10/2021
The property had a real wow factor when entering the living room. It was exceptionally clean and well equipped. The location was lovely and only a short ten minute walk to the town centre and another five down to the beach. Would recommend for family vacations.<br/>Mattress in the master bedroom was lumpy on the right hand side and has a slope running down from left to right. Couches not as comfy as they looked.
Sharon
02/10/2021
Loved everything about this property. Highly recommended. <br/>Nothing.
David
13/09/2021
Lovely like staying in a show house
Stuart
10/09/2021
Great accommodation that has modern decor. The whole house was very clean and is in a good location for walking into the centre of Saltburn. And the sea front. The hosts made contact to check everything was ok and answered any questions straight away.
Tina
03/09/2021
A great position for the town, beach and park. Good communication. Couldn't always park outside the house.
Roger
19/08/2021
Very contemporary property in a good location that has been nicely decorated. The town centre is just 5 mins walk away and the beach is 10 mins walk. Unless Stay put more cutlery into the property you will need to take additional cutlery. There were six of us but only enough cutlery for four people. The photos are an accurate representation as to what the property looks like. Overall we would recommend this property and would happily stay there again if we returned to Saltburn.
Richard R.
13/08/2021
Stayed here with my wife, and another couple, and their 2 children. Place was perfect for us, very clean, easy parking outside, well equipped kitchen and lovely social area. Great location too
Rebecca
06/08/2021
Very nice house and good location.
Olivia
01/08/2021
Visited 'Montrose View' ideally situated on Upleatham St, Saltburn-by-the-sea at the end of July.<br/>The house is in a great position , within walking distance to the sea front, train station, shops and takeaways. There is parking on the road outside the property, which was great.<br/>We were a group of 6 adults and 1 four month old baby.<br/>Unfortunately we were very dismayed to find that even though we had paid for the 'Enhanced Clean' many areas were very dirty. The floor had to be mopped as it was filthy. (We are super clean..probably a little OCD...and never wear shoes in the house. But we could see dirt and our suspicions were confirmed when we looked at the three filthy disposable mop heads!!)<br/>Cutlery, crockery, saucepans and frying pan had to be cleaned prior to use as had food on them.<br/>The fridge also had remnants of the previous guests food!<br/>The dining table was very dirty. There were only 4 place mats and 4 forks for the six of us. We messaged the host regarding this and the missing outside bins but given No help.<br/>We also inadvertently left a new baby bottle in the fridge. Messaged the host immediately, and sent a further (Website hidden by Airbnb) response. <br/>We loved the location of the property but there were so many things that we did not like about the house, including 1 small wardrobe for 6 adults to share, a tiny towel rail too small to accommodate the towels, bath too deep to use for one adult as they had arthritis and could not get in to use the shower. The stairs were extremely steep and we banged our heads a few times on the very low bulk head. <br/>A shoe rack would be great also as shoes piled up in the hall was not ideal.<br/>We are definitely returning to Saltburn very soon. But would not use this property again.
Sharon S.
26/07/2021
Stayed in July 2021. The house is a 10 minute walk to Saltburn seafront. A 5 minute walk to shops, bars, restaurants and railway station. Inside you will find an immaculate interior with everything needed for your stay. The kit hen is well stocked with all you need if you plan on cooking whilst there. 3 beautifully decorated bedrooms, 2 doubles and small room with bunk beds with comfy soft mattresses A convenient downstairs loo finishes off the interior. I would highly recommend a stay here both for Saltburn and a jaunt to other nearby seaside towns and attractions.
Barry M.
14/07/2021
Steep stairs to bedrooms.<br>Lacking a second bathroom.<br>On the whole more than adequate
Kath
04/07/2021
Nicely furnished house in a good location. Parking right outside too. Well equipped and comfortable but could do with curtains in the bedrooms as the blinds don't block out the light.
Ethel
21/06/2021
Close to the train, beach and shops. Super clean and has everything you'd need! Highly recommend
Chris
28/05/2021
The accommodation is as the description and pictures portray. Front bedroom is very bright at night as a very bright streetlight is outside the window, blackout curtains or a eye mask is needed if your alight sleeper.<br/>Would we stay again, yes we would.
Alison
14/05/2021
V good all round !<br/>Key didnt fit in front door easily.<br/>A bit echoey as no curtains just blinds
Jon
27/04/2021
The location was ideal for us and the type of break that we had. Its spacious and clean. Regular communication with the hosts meant that if we needed anything they would be in touch.<br/>It was all as we expected. Nothing that we didn't like.
Jon P
27/04/2021
We've just returned home from a four night stay. The house is lovely. Its an ideal place to stay with young children. We didn't take our dog, but it is dog friendly. Facilities are excellent. Very clean and tidy. No issues. Bedrooms are spacious. Lovely decoration throughout. It has everything you need to base yourself in Saltburn for a break. A five minute walk to the beach and town centre makes this an ideal place to stay.
Ruth
02/01/2021
Lovely stay for new year. Really good location with just a short walk to the centre where there is a Sainsburys and 10 mins to the seafront also a reallh good chippy around the corner! Nice to be able to get out and about without having to drive.
James
27/12/2020
Very stylish house within walking distance of the beach, very enjoyable.
Yocheved
24/12/2020
Thank you Stay for a lovely Stay!!! We had such a wonderful short break! The entire place was sparkling clean, with super comfortable beds and couches. Was thoughtful to leave out the tablet we could use to look up local activities! Extremely modern look and well designed. Would have loved to stay another few nights:):):) Have already recommended to others on our first day back!!!
Kath And Hamish
22/12/2020
amazing house, good value, quiet neighbourhood. Close to the shops and take away. great access to the beach, moors, town. well communicated , efficient and polite staff very friendly. Watch out for extra charges of £15 per hour if you wish a late departure ...a little disappointed by this. but everything else was great.
Helen
31/10/2020
Lovely stylish house in a great location. The interiors are lovely and the kitchen we well kitted out with everything we needed. The beds are very comfortable. Bring eye masks if you like it dark at night as there is a streetlight right outside the house which stays on all night long! We had a lovely few days exploring Saltburn and the neighbouring beaches, thank you.
Victoria
11/10/2020
Great price and stylish property. Close to beach, train station and shops/restaurants.
Samantha
04/10/2020
An immaculately clean and very modern decorated house, ideal for our family weekend stay. Really easy to book and no issues on arrival as they have a convenient lock box for the keys. Very close to the sea front of saltburn though is in a housing estate which doesn't give you a holiday vibe at first. The inside of the house more than makes up for that, with all of the amenities you would need and it's a great spot for trips to runswick bay, robin hoods bay and Whitby.
Sophie
20/09/2020
We had a fantastic weekend away. The house is absolutely beautiful and we had everything we could have wanted and needed. Great location, close to the seafront and town centre. Would absolutely love to visit again and 100% recommend to others!
Alex
13/09/2020
What a fantastic house, and a surprisingly lovely quaint town.<br/>The host had thought of the small things, which made our stay more convenient, even though amenities are only a short walk away. Book it, you won't be disappointed. Plus, Church's Fish and Chip shop just around the corner is incredible. Even the locals travel for it.<br/>It was our first time in Saltburn and we'd highly recommend it. Definitely coming back. Even looked at house prices...
Lynsey
07/09/2020
Lovely clean house. Close to local amenities, everything that we wanted. We will definitely look to stay again.
Sarah
01/09/2020
Montrose view is a great place to stay. Clean, modern and stylish. The accommodation provided everything you need in a holiday home. Stay kept us well informed and answered queries very quickly. Well located, situated only a short walk to the centre and the beach. We would definitely stay here again.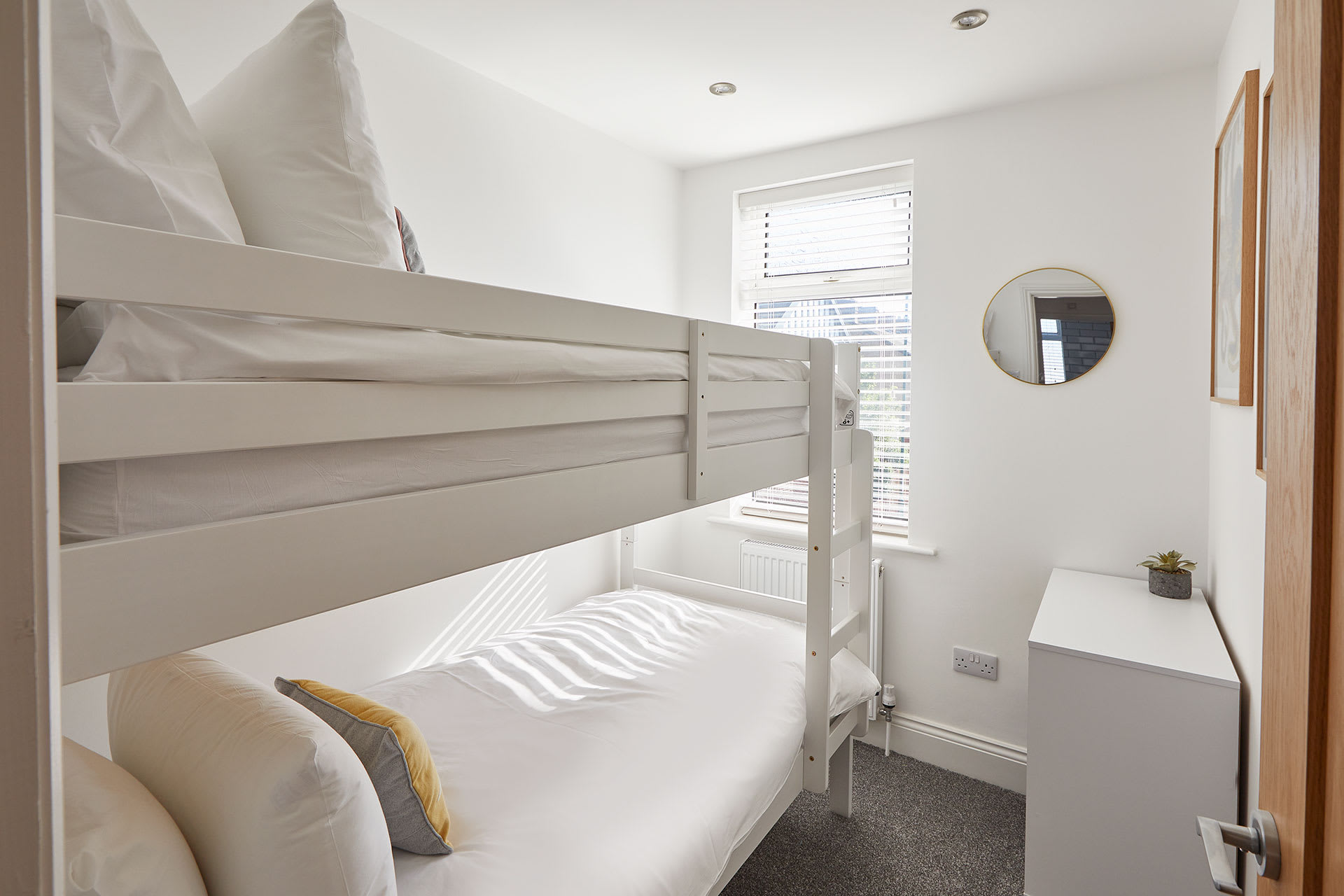 Home Truths
On site parking isn't available but you will find free on street parking directly outside the property and on the surrounding streets.
One of the bedrooms has single bunk beds. Whilst perfect for children and teenagers, it may not be suitable for a group stay of adults.