A wonderfully converted former chapel school, Dunsley Chapel accommodates up to 10 guests across 5 bedrooms. Sitting proudly above the village green, this holiday home offers something extra special - with sea views, large enclosed garden areas, and the perfect terrace for dining al-fresco.

This exceptional building has been renovated to a 5* standard, allowing its character to flow through the property perfectly.
Trip Details
Property Highlight #1
Packed with History
This former chapel school has been beautifully renovated to the highest standard whilst still keeping all of its original charm and character.
Property Highlight #2
Ground Floor Bedrooms and Bathrooms
You will find a master suite and twin room on the ground floor. The master is joined with a full bathroom featuring a bath with an overhead shower, WC and basin. The twin room has use of a shower room also on the ground floor.
Property Highlight #3
Outdoor Space
The property is surrounded by greenery and is complete with a patio and outdoor dining area making it perfect for al fresco dining.
The Space
Upon entering the chapel through its original doorway you are met with an expansive space, perfect for family gatherings and special occasion getaways.

The ground floor features a large open plan living, dining and kitchen area. The living room features three plush fabric sofas, a 65" flat screen, smart TV and two solid wood coffee tables. The large picture wall and faux plants bring a modern style to the chapel while the arched windows and overhead beams remind you of its characterful past.

The kitchen and dining area is the perfect spot for entertaining. The well thought out space allows guests to cook, eat and socialise in one place. The 10ft dining table is surrounded with one solid wooden bench and 6 mint green faux suede dining chairs.

The kitchen features a large range cooker, two refrigerators, a freezer, microwave, kettle, toaster, dishwasher and coffee machine. Whether you're staying for two days or two weeks, you will have everything you need for that feeling of home.
Just off the kitchen you will find the downstairs WC and shower room.

The Chapel is home to five bedrooms. You will find one master suite and twin room on the ground floor. The master is joined with a full bathroom featuring a bath with an overhead shower, WC and basin. The Twin room has use of a shower room on the ground floor.

On the first floor, you have a king room with a French-chic style to it. The second bedroom is a bunk room, perfect for the smaller members of the party. The third and final bedroom on the first floor is built into the loft space of the chapel. With a stylish, luxurious style this bedroom is the perfect escape during your stay.

The third bathroom can also be found on the first floor. This modern bathroom suite features a bath with overhead shower, vanity unit with basin and WC.

Host & Stay are committed to our owners that their homes are protected during bookings. For this reason, we require all of our guests to transfer a £250.00 Damage Deposit (subject to a £10.00 administration charge) or, to purchase an Accidental Damage Waiver for £25.00 which will cover you for up to £500.00 of accidental damage during your stay.
Neighborhood
The small hamlet of Dunsley is quiet and relaxed. It is perfectly located on the North Yorkshire coast - just a short 20-minute walk to Sandsend and less than 5-minutes into Whitby by car. Dunsley sits very close to the Cleveland Way so you can uncover a haven of woodland and moorland during your stay.

Sandsend sits at the end of almost 3 miles of sandy beach, west along the bay from Whitby. Watch the surfers bob in the distance as you stretch your legs along the shores. Soak up the sea air as you feel the sand beneath your toes.

Head into Whitby and explore everything the seaside town has to offer. Visit the infamous Whitby Abbey which went on to inspire Bram Stoker's gothic novel 'Dracula'. Try the local catch of the day in one of the many fish restaurants, enjoy a drink in a cosy pub and feel nostalgia in the arcades which line Pier Road. You can't miss the beautiful Blue Flag West Cliff beach which is complete with colourful huts on the promenade.15

For a more vigorous expedition the beautiful North York Moors are on the doorstep, with a huge range of hikes and scrambles available, or visits to the little villages dotted across the wild landscape – Goathland is particularly well-known because of its use in the TV series Heartbeat – before returning to the haven of Dunsley.
Getting Around
You can explore Dunsley and the surrounding small villages on foot and the coastal village of Sandsend is just a short 15-minute walk away.

Whitby train station is around 5-10 minutes away via car so villages and towns along the North Yorkshire coast can easily be reached via rail. There's also a taxi rank in close proximity to the train station.
Pets allowed
Suitable for children (2-12 years)
Suitable for infants (under 2 years)
Dishwasher
Dryer
Free parking on premises
Heating
Iron
Refrigerator
Stove
TV
Washer
Bathtub
Bed linens
Carbon monoxide detector
Coffee maker
Cookware
Dishes and silverware
Essentials
Family/kid friendly
First aid kit
Free parking on street
Garden or backyard
Hangers
Hair dryer
Hot water
Internet
Kettle
Kitchen
Laptop friendly workspace
Microwave
Oven
Patio or balcony
Private entrance
Shampoo
Smoke detector
Step-free access
Toaster
Towels provided
Wireless Internet
Cleaning Disinfection
Enhanced cleaning practices
High touch surfaces disinfected
Guests have access to the full property. The keys to the property are accessed via a secure key safe and full details will be provided shortly before your arrival date.

There is private parking available at the property for up to four vehicles depending on size, and there is also additional free parking nearby.
Check-in: 16:00
Checkout: 10:00
From the guestbook
4.60
(91 Reviews)
Pamela
20/11/2023
The property is immaculate and very comfortable. We had a lovely stay. <br/>It was easy to walk to Sandsend and the scenery is beautiful.
Anthony
22/10/2023
This property hosts an excellent, central social space for large groups or families, with plenty of room for everybody to be there at the same time. The period features are beautiful and it's quite something to be staying in a converted church. The beds and sheets were clean and comfortable. <br/>The property itself is fantastic, but there were a few things that bothered us:<br/>The property was cold on arrival, which is something we expected based on other reviews, so put the heating on as soon you arrive and bring wood for the fire.<br/>Most rooms and bathrooms had cobwebs and dust in places - a thorough clean is needed for sure. However the kitchen and other main surfaces were clean.<br/>One of the sofas has very unstable legs, which made us really cautious whenever we sat on it. It definitely needs repairing. There was only one dishwasher tablet upon arrival and the Wi-Fi is not good - it only works if you're near the router, which is not ideal. <br/>It's a great place, but needs some care!
Carol
18/10/2023
Space<br/>Only one tea towel
Anna R.
20/09/2023
This is a lovely property with great communal area and outdoor seating. Double rooms lovely and shared ones exactly as described.<br><br>Great location for sea swimming, coastal path and North York moors.
Elizabeth
17/09/2023
Lovely little chapel and great that there are two ground floor bedrooms and bathrooms. <br/>We stayed with our parents in their 70's who have accessibility issues so this is reflected in my review and not relevant to everyone. <br/>I would recommend picking up some logs on the way as the high chapel ceiling keeps it very cool. It was late teens low twenties when we stayed and with elderly parents it was too cold for them. <br/>Access is good but the path is a little slippy and there is a step out the front. The sofas are quite low and the high ceiling affect the sounds… our parents struggled hearing across the room as a result. <br/>This property is managed by a company and this is did mean not all of the information was available. They advised there should be fire wood in the shed but these were locked with no key. <br/>Although clean there are signs of age with stained carpets, worn fixture etc<br/>Overall it was lovely but a few specifics we found whilst there.
Neil M.
12/09/2023
Idyllic location, the chapel was great, a superb place for the family. However a lack of basics, soap, washing liquid and shower get made the 3 mile trip to Whitby essential and the first thing we did. Plenty towels supplied and neatly on beds but only one dish towel. There was a random feeling about the crockery and cutlery. Plenty of it but all mixed and unclear how many of each.<br>So a fantastic property and location. The setup could be more professional but I'd book it again for the same family group, they all loved it.
Helen
31/08/2023
We stayed for 3 nights. There were 5 adults, 3 children and a dog. The photos of the chapel are accurate. The living space is beautiful and spacious. We had no issues with the heating but we stayed in the summer. There were a few cobwebs in the bathroom and main living space in high to reach areas but this was not an issue. The toilets and showers/sinks were very clean and so was the kitchen. I always wish I didn't have to bring extra toilet rolls but this seems pretty standard now in most commercial holiday lets. There was enough for the first 2 days and I don't think that is unusual. The utensils and crockery in the kitchen were great, and more than enough for the 80th birthday celebration lunch. There was washing up liq and a few DW tablets and the kitchen was lovely. The bedrooms were comfortable. The twin is small but fine for kids. We walked to Sandsend for fish&chips at fish cottage and drove to Falling Foss tea garden for scones and a nice walk. A lovely stay, would recommend.
Sophie
18/08/2023
We had a good stay overall. The chapel is beautiful and in a great quiet location with Sandsend walkable (steep on way back but walking on the road was fine as very few cars and they slowed) plus only a 10 minute drive to Whitby. We had a few issues like the internet not working and hot water ran out on the first day as linked to hive which needed internet so a bit frustrating but it got fixed ok. Dominoes delivered using what3words which was good and we picked up a takeaway from Whitby another night. Overall we had a lovely stay
Felicity
14/08/2023
We had a lovely stay in Dunsley Chapel. Spacious and great garden for the children to play in
Bec
12/08/2023
We didn't, it was utterly filthy and we left the property early.<br/>The whole place was dangerous, dirty, moldly, unhygienic and needs closing down, renovating and repairing. Booking.com. and host and stay did nothing to rectify any of our issues and we left after 2 days because it was making members of the party ill and I don't see why I should have to clean a property that cost us over £3k to stay in. There was faecal matter around the toilets, cobwebs everywhere, thick dust and grease. Hair in the cutlery drawers, old food and debris on the sofas, the outside yard was overgrown so couldn't exit through the door. Soap scrum on the taps and shower walls, bogies on the bunk beds and bedding. It was disgusting.
Richard
31/07/2023
Great place to stay near Whitby, literally ten minutes away. Even closer to the beach. Very well equipped and great layout. Would stay again!
Hayley
13/07/2023
Beautiful house and surrounding area. Walk to Sandsend was not doable as a very narrow steep one way road so dangerous especially with children so we drove but easy parking. <br/>House was immaculate and so spacious. Lots of amenities which really made a difference.
William
18/06/2023
Wonderfully converted Chapel in a peaceful location and great for a family reunion. Was just the right size for our group with plenty of space in the living / dining area for everyone. The bedrooms were all a good size and very comfortable.<br/>It's only a short drive into Whitby and is located very close to the beach at Sandsend (however, the road to Sandsend is very narrow with lots of blind bends and not very safe for walking). <br/>Would definitely recommend Dunsley Chapel for this kind of family get together.
Thomas
06/06/2023
it's a stunning property with gorgeous views. perfect for a big family !<br/>toilet in upstairs bathroom was broken on arrival and down stairs double en-suite wasn't cleaned at all well prior to arrival . agents and cleaners need to do a better job !
Jonathan
21/05/2023
Lovely spacious property, very clean, well equipped kitchen, nice showers, comfortable beds. Lots of space for everyone in the main living area and beautiful, quiet location.
Andrew
14/05/2023
Wonderful stay at the Chapel - it's in such a lovely peaceful area and Whitby is just 10 mins away. The property is stunning, easy to access with the detailed key box instructions, enough utensils for the 9 of us. Perfect for multi-generational family get-togethers - we had people from 12 to 75 and it worked so well for us. Beautiful property and will be back again for sure.
Vicki
15/04/2023
Let's start with positives: <br/>Beautifully restored Chapel,in a lovely location.Beds comfortable and it was clean,spacious and the owner provided additional pans and baking trays for our visit- we were eating in,catering for 10. This was a special occasion for us,so I communicated with Host&Stay beforehand,to make sure everything was in place, so we could just enjoy our celebration.<br/>BUT:<br/>The heating hadn't been put on, as arranged,so it was cold on arrival and took 24hrs to warm up.<br/>The promised logs never materialised for the woodburner,despite regular reminders and assurance that they would be delivered.<br/>The main oven didn't work- making catering for 10 a challenge.<br/>The 2nd day there was no hot water for showers.We returned from the beach, windswept and sandy and all had to go out for our 40th Anniversary meal unshowered. <br/>The showers were ridiculously difficult to turn on and off ( it was a team effort).<br/>We spoke to 10 different ppl at Host&Stay, all talk,no action.
Diane
07/03/2023
great social space <br/>modern decor <br/>well equips<br/>very cold downstairs first evening <br/>downstairs twin freezing had to buy an electric heater for second night<br/>insufficient hot water for number of guests……
Kate
28/02/2023
We had a fab stay, the property was as described and in a great location. There were a few minor cleanliness issues e.g. cobwebs, but would definitely stay again and recommend to others
Simon
30/01/2023
Ji
04/01/2023
The house was very clean and comfortable<br/>Just a tiny thing but we didn't have any tea bags! Appreciate it was over the holiday season though.
Lynn
01/01/2023
The house was in a lovely rural setting, it was beautifully presented, clean and well equipped. Host and Stay were responsive to any queries. <br/><br/>We would have preferred to have had a slightly later check out for New Year's Day but unfortunately this could not be accommodated. It should also be noted that the twin and bunk bed rooms are much smaller than the double rooms but are ideal for children. <br/><br/>We had a lovely few days staying at Dunsley Chapel.
Martin & Gemma H.
12/11/2022
Chloe
06/11/2022
A really special place, the perfect place for spending quality time with a larger group. My only feedback would be around heating, some of the bedrooms, particularly the twin at the front were very cold and difficult to warm up.
Demetra
23/10/2022
This property is in a beautiful location but, if you are booking it in the winter, be forewarned that the underfloor heating takes at least 36 hours to come on. The house was VERY cold when we arrived and there was nothing provided for the wood burner. We spent a cold night until we could purchase supplies for a fire in the morning and were disappointed that this wasn't thought of by the property management. Also, the kitchen is not well equipped if you are catering for larger groups and you should bring your own basics (e.g., cooking oil). That aside, the rooms are well apportioned, the views are beautiful and the proximity to the sea is fantastic.
Fiona
18/09/2022
Dunsley Chapel was absolutely beautiful and in a perfect location to have a weekend catch up with friends. Close proximity to Sandsend beach and an easy drive into Whitby. Highly recommend!
Anna
13/09/2022
Beautiful building, lovely country setting.<br/>Main living area very nice open plan. Lovely decor and tastefully furnished throughout.
Carol
09/09/2022
This property was perfect for what we needed which was a place for 6 adults to chill for birthday celebrations for a couple of days. The open plan living room/kitchen makes a great entertaining area. The bedrooms were nice and comfortable. The only issue we had is that we couldn't get the heating to work, but we bought some logs and made a log fire.
Karen
28/08/2022
The living/dining area was ideal for our large group. It was in a very quiet location but only a few miles away from Whitby. Overall the facilities were very good & we enjoyed our 2 night stay.<br/>Light coloured carpets that have had heavy traffic would have benefitted from a clean.
Sally
15/08/2022
A lovely place- everything you need is pretty much there. Very clean. Lots of space. A great place for a very large family or party of friends to chill. A beautiful holiday home. Price not too bad if several sharing the cost but very pricey if not.
Philip
08/08/2022
David
06/08/2022
We stayed in Dunsley Chapel with our children and grandchildren, and had a wonderful time in this striking property.
Amy
29/07/2022
Great house, lovely venue, had everything we needed... the hosts stayed in touch and kept us updated ! Thanks
Julia
27/07/2022
Wunderschöne Location. Geschlossener Garten - ideal für Hunde.
Adam
25/07/2022
The place is beautiful. And great location<br/>Would have been nice to have some milk and bread on arrival as we were very late getting there. Other than that was very good
Sophie
03/07/2022
Beautiful property and wonderful stay for my Dad's 60th with all our family.
Loredana
13/06/2022
Zap
12/06/2022
Such a lovely house in a great setting! Plenty of room for a group of up to 10 people, gorgeous house throughout, beautiful grounds, and even a sea view.<br/><br/>The gorgeous Sandsend beach is only a mile to the east. (But there's a 25% downhill towards the end, so if you fancy a walk, you'll have a steep hill to get back up!)<br/><br/>(Tip for anyone getting here via (Hidden by Airbnb) Maps, which doesn't have a great idea where the house is: If you come up Dunsley Lane from the south, fork left directly opposite the Dunsley Hall entrance. Just before the left you need is a fork for Home Farm, but go past that and take the very next fork, then Dunsley Chapel is the first garden gate on the right, and the gravel parking bay is just a bit further along.)
Nicholas
09/06/2022
The location and the setting<br/>Problems with the television weren't resolved for a few days
Angela
23/05/2022
Our second visit to Dunsley Chapel and it was as breath taking as before. There is plenty of space to accommodate a large family and they allow dogs. <br/>My mum uses a wheelchair/ mobility aid and apart from a small step at the entrance it was perfect for her with an en- suite bathroom to the downstairs bedroom.<br/>A little too far to walk but the beach is almost on the doorstep and is looking lovely this year.<br/>Communication with the Host is great. Before, during and after our stay.
Joshua
18/05/2022
Luke
30/04/2022
Excellent accommodation. Beautifully presented and in a nice quiet location. Will definitely be staying again.
Nina
24/04/2022
Angela Callaghan
06/04/2022
Really lovely accommodation. Great for a family or friends get together. Had a lovely walk through the woods to Mulgrave castle, then down to Sandsend beach. Where we had a lovely pub lunch in the Hart Inn. Human and dog friendly. Would definitely stay again.
Ann
21/03/2022
A very nice modern and clean house with a great location, you can stay and have a quiet time or a short ride into Whitby.
Elisabeth
18/03/2022
Fantastic property in a great location. Lots of lovely walks in the local area and close by to whitby! The house has been done up well, with a lovely garden also. I would say it wasn't that clean when we arrived - the grill and oven were dirty, lots of cobwebs, carpets and windows not very clean. For £200 cleaning fee not sure that reflected on the property. For the wifi you have to provide all of your details, not ideal if you have to work from the property. They also request to fill out an extensive form to provide more personal information and request bank details and passport. I feel everything should be completed within the site of air bnb and not else where.
Lynda
22/02/2022
Barbara
08/02/2022
The big room worked really well with a large family group. Even the ones on meal duties didn't miss any of the fun.
Yujing
04/02/2022
Dunsley chapel is a really nice place, it's perfect for us as a group of 6 adults, a toddler and a dog. More than enough space, clean and tidy, you can see the field and sea from the window and also it has easy access to town, with 10min drive you can reach Whitby. Definitely recommend!
Paul
04/02/2022
Cold in the ground floor bedrooms
Nick
23/01/2022
Molly
17/01/2022
Had a really lovely stay, after an initial issue with the boiler we were offered alternative accommodation and it was wonderful
Nicola
28/12/2021
loved the decor<br/><br/>the heating was playing up a lot
Linden
15/12/2021
Beautiful converted chapel. Really stunning interior and a lovely shower! Easy check in, good access to Whitby, scenic area, really idyllic.
Katie
07/12/2021
The relaxing interior and warm underfloor heating! Very comfortable and homely, but also felt very special. The Christmas tree was a nice addition!<br/><br/>A few more knives, forks and spoons could have been better, and toilet roll too.
Lindsay
16/10/2021
We really loved this property. The living area is spacious but cosy and homely, and there are enough bedrooms to suit a variety of family needs. We were all comfortable staying here and although we never go back to the same place twice, we would consider coming back here again.
Isabel
14/10/2021
Genna
04/10/2021
We had a lovely stay this weekend. This was the second time we stayed at the property so would highly recommend. <br/><br/>Great location to explore Whitby
Sarah
27/09/2021
Sam
11/09/2021
Dunsley Chapel was the perfect place to stay for a few nights with adult family members and visit the nearby attractions. The place has been renovated beautifully and had everything we needed for our stay. Sian was always available for a query if needed and very quick to respond.<br/>Only point I would make is that it is not very easy to walk anywhere from the house, so a car would definitely be required for the trip. Would recommend staying at this place to anyone.
Tracy
07/09/2021
Excellent stay, stunning property and location. Very relaxing with fantastic countryside and sea view.<br/>Would definitely recommend!
Jane Alison
22/08/2021
A wonderful property<br/>We were a family of 7 with grown up children<br/>We celebrated my birthday<br/>Lovely safe grounds for our dog<br/>30 minute walk to Sandsend for beaches and restaurants<br/>We organised a Sainsbury delivery which went smoothly<br/>The hosts were brilliant and responded immediately<br/>Bedrooms and bathrooms superb<br/>One silly point. Only 1 T towel. Take your own!<br/>Take your own dish cloths. We bought some and left them there.<br/>All good and would strongly recommend
Tina
21/08/2021
Cluxton
07/08/2021
Size, great quality, location, done to a high standard. <br/>Parking could be improved given the space around the property, better kitchen utensils (cutlery/glasses/ crockery were super btw)
Leonard
27/07/2021
Definitely the best holiday accommodation we have rented. The main living area is out of this world and perfect for my whole family to spend time together. Lovely quiet location with the benefit of a beautiful hotel next door and only 3 miles from the very busy Whitby harbour. Have paid a lot more for a lot less in the past!!!<br/>Nothing.
Anne
19/07/2021
Beautiful large open space both inside and outside. Great views across to the coast. A good space for a large group who need five rooms. 2km walk down to Sandsend. Would recommend this venue.
Iain
24/06/2021
Location and space<br/>Nothing
Lucy
12/06/2021
We had a fabulous week here in June. The chapel is a beautiful place to stay, very clean and spacious, we all had a great time. Very much enjoyed the bbq, fire and views. Central location to visit Sandsend, Whitby, Staithes, Scarborough, Saltburn etc. It's a shame there aren't more footpath walks from the property. Overall a great stay and would recommend
Jeff
22/05/2021
Beautiful house and a perfect base to go and enjoy all the local attractions.
Jessica
19/05/2021
What a beautiful house!! We absolutely loved everything about the house, location, decor, comfort, it was just lovely. We particularly loved the open plan, sociable downstairs space which was perfect for the first time our family had been together for a long time! The location is beautiful, the tiny hamlet of Dunsley is perfectly rural and quiet, but a quick drive down the hill and you're in Sandsend. There is even a sea view out of the front of the house. We can't wait to come again. Thank you!
Kate
16/05/2021
Lovely property. Good service. Loved the location.
Gurpreet
09/05/2021
Lovely property and ideal location. Will definitely be returning.
Dilara
03/05/2021
We loved our stay at Dunsley Chapel. A wonderful property with the perfect location.
Doug B.
02/05/2021
We cannot express how wonderful our stay here was! Beautiful property inside and out! It was so quaint, quiet, meticulously clean throughout, beautiful views, updated appliances, dinnerware, cooking implements and very spacious bedrooms and bathrooms! We felt right at home in Dunsley! Communication with the host was timely and so very kind! The location is superb and the views are breathtaking! We hope to be back for a longer stay in the future! <br>Thank you so much for everything! <br>The Butler Family
Leah C.
27/04/2021
Our second stay at dunsley Chapel, couldn't rate it enough it's like a home from home!!
Anonymous
17/04/2021
Charles
07/03/2021
Ross
08/02/2021
Great bedrooms and large communal space, plenty of bathrooms, great walks on the doorstep. I think I returned the kitchen cleaner than check in - but I am very fussy, this was my only negative!
John V.
02/01/2021
We was all very impressed by the property, extremely good standards in the property, in pretty much had everything all modern, nicely decorated, everyone of us was well impressed with everything in and outside of the property <br>The location was perfect for me nice quite little village but only 10mins drive from Whitby <br>The only thing I would criticise on is the WiFi wasn't very good or easy to connect to but other than that we loved it and would imagine we will try return later in year ?
David
29/12/2020
What an amazing place. Spotless and modern. All the facilities you need and more. Underfloor heating meant you were always toasty and a large Christmas tree in the corner added to the homely feeling. Huge TV in the other corner with SKY Q kept the kids happy?. 2 fridges and a freezer for cool drinks. Tonnes of glasses and crockery to satisfy an army. Definitely book again!
Stan
20/12/2020
Loved this place ! So so spacious and wonderfully decorated. The heated floor in the open plan living room / kitchen my personal favourite. The only downside is we had to leave ! Plan to return in the future. Many thanks Sian and team for the hospitality x
Jon
16/12/2020
Lovely luxurious stay, well located for the local area. Very responsive host helped us with a heating issue very promptly. Would highly recommend and stay again.
David
24/10/2020
Excellent place to stay, the open plan living accommodation is great. Spotlessly clean too.
Natilly
21/10/2020
Fantastic cottage, the best we have stayed in. <br/>Loved the cottage and we enjoyed the lovely walk to sandsend. Highly recommend this cottage to everyone.
Angela
28/09/2020
We had the most fantastic stay in this lovely house. Unfortunately reduced to 6 people due to COVID so worked out slightly more expensive but worth it. Has an absolute WOW factor the minute you enter.<br/>House was spacious (10 adults would easily be accommodated), clean and well equipped. Communication was great from the moment we booked. <br/>Only negative for us was that we got absolutely soaked on our first day and found there was very little ability to dry wet clothes. Underfloor heating so lack of radiators and no (obvious) 'dry only' cycle in washing machine. All hung up in the outer porch so still a bit damp the next day.<br/>On saying that would definitely stay here again.
Julia
23/09/2020
Beautiful, unique property. Spacious, well decorated, and clean. Great location close to a beautiful beach and a short drive to Whitby. Couldn't fault it - highly recommend.
Genna
20/09/2020
An absolute gorgeous property, extremely clean and well decorated. We will certainly return
Lottie
04/09/2020
We loved our stay here, the chapel was very impressive, decor was stunning in the kitchen/lounge area and 3 double bedrooms. Beds were very comfortable. It was very clean too with lots of cleaning products available to use. Nespresso coffee machine and coffee pods was a lovely touch too. We will be recommending this place and we can't wait to come back!
Alex
01/09/2020
Very clean, three good sized double rooms, one room with bunk beds suitable for children and one room with twin beds for adults or children. Large open plan kitchen/dining/lounge area
Helen S.
14/08/2020
Absolutely gorgeous, great attention to detail, spotlessly clean and a great location. Highly recommend this beautiful property. It has everything you need and more.
Mil
04/08/2020
Fabulous property - the open plan kitchen, dining, lounge are was stunning.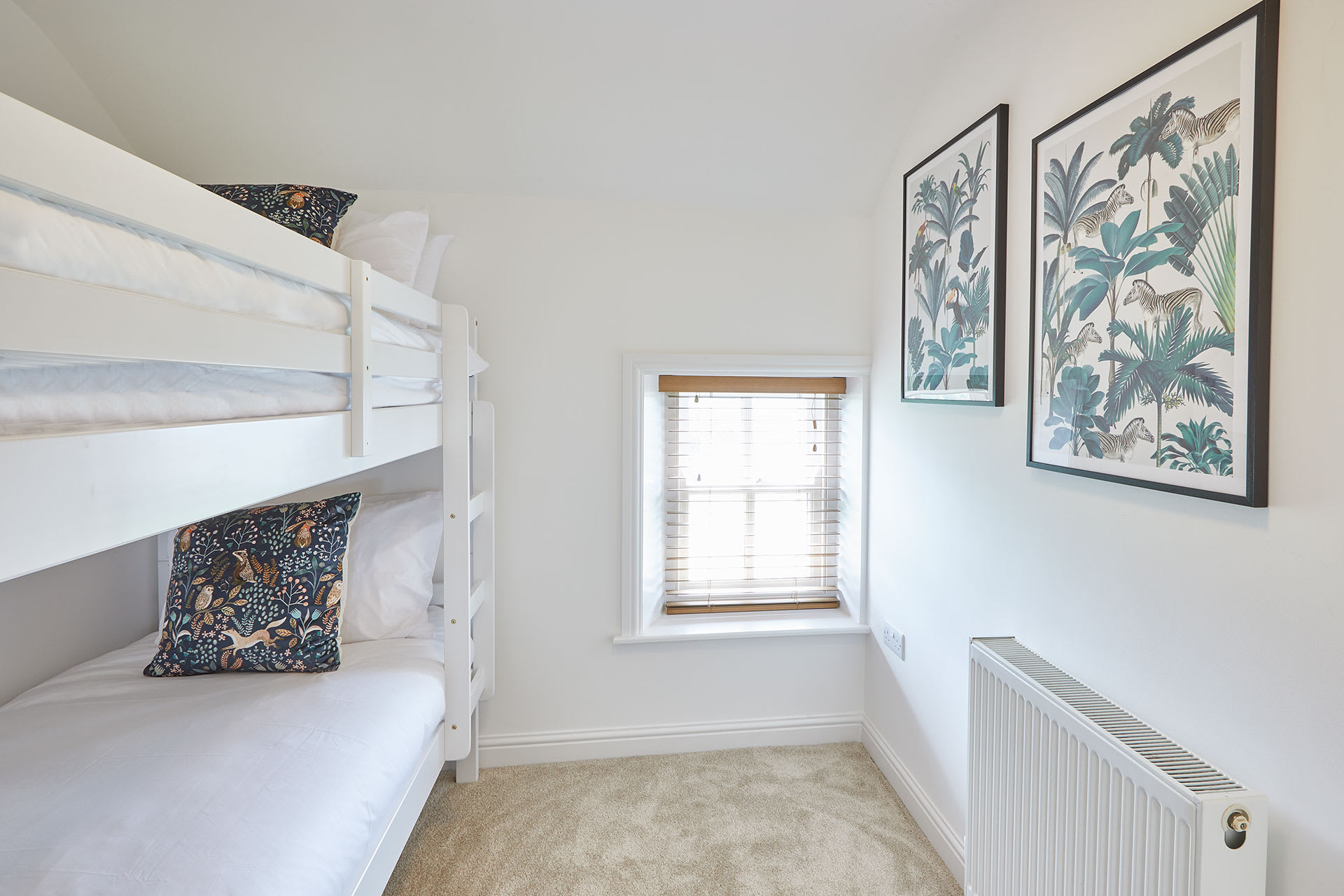 Home Truths
If you're looking for a stay in the centre of Whitby, it's worth noting that Dunsley Chapel is a 5-minute drive from the centre.
One of the bedrooms has single bunk beds. Whilst perfect for children and teenagers, it may not be suitable for a group stay of adults.