No.3 Sandside is a truly unique property located on the beach at Whitby. With unrivalled views across the bay, this beautiful two bedroom holiday home really is the true meaning of a coastal retreat. Located just a few moments from the famous 199 steps, you are right in the heart of the bustling seaside town.
Trip Details
Property Highlight #1
No.3 Sandside has incredible, unrivalled views across the bay. Open the bi-folding doors and watch the shores lap the sand below.
Property Highlight #2
Located in the Centre of Whitby
The property is located just a few moments from the famous 199 steps so you are right in the heart of the bustling seaside town.
Property Highlight #3
Outdoor Space
No.3 Sandside benefits from a large outdoor space to the rear of the property. With outdoor furniture for both dining and relaxing, this outdoor space is a luxury in Whitby.
The Space
This expertly designed holiday home has been decorated and furnished to an excellent standard. With unbeatable views and a cool but cosy style, No.3 Sandside is perfect for a romantic treat or couples getaway. This delightful property spans over four floors, sleeping four guests across two bedrooms.

On the ground floor, you walk directly into the kitchen and dining room. This well equipped kitchen features an electric oven and hob, microwave, toaster and kettle with plenty of space for preparing a home cooked meal. The dining space sits neatly with a solid wood table, with matching bench and chairs.

Take the few steps into the living room where you are welcomed with full width bifold doors and truly stunning views across the bay. You are as close to the beach as can be in No.3 Sandside. The living room has a subtle nautical theme with a beautiful soft colour palette. You can relax in this space and spend hours watching the ever changing colours of the sea and sky.

The first bedroom is a king room. The bed is perfectly positioned out to the Piers and entrance to the harbour. The bedroom benefits from an outdoor terrace, the perfect place to enjoy your morning cuppa or evening glass of wine. The loft bedroom is home to a double bed.

The main bathroom has a shower over bath, WC and basin unit. With dark wood effect wall tiles and pebble effect flooring, this room is finished with two porthole style mirrors and discreet sea theme nik-naks.

No.3 Sandside benefits from a large outdoor space to the rear of the property. With outdoor furniture for both dining and relaxing.

At Sandside you can enjoy all Whitby has to offer right on your doorstep.

Host & Stay are committed to our owners that their homes are protected during bookings. For this reason, we require all of our guests to transfer a £250.00 Damage Deposit (subject to a £10.00 administration charge) or, to purchase an Accidental Damage Waiver for £25.00 which will cover you for up to £500.00 of accidental damage during your stay.
Neighborhood
Located at the bottom of the 199 famous Abbey steps, No3. Sandside is as close to the action as you can get. With narrow, medieval streets dotted with boutiques, pubs and fish restaurants on your doorstep. You can climb the famous 199 steps up to the Church of Saint Mary. You can also discover the renowned ruined Whitby Abbey, which was the inspiration for Bram Stoker's gothic novel 'Dracula'.

On the other side of the River Esk, you'll come across cosy pubs, fun arcades and even more fish restaurants on Pier Road. Venture along the lively road and you'll reach the beautiful, blue flag West Cliff Beach which is lined with idyllic beach huts.
Getting Around
Whitby train station is just a 10 minute walk away on foot so villages and towns along the North Yorkshire coast can easily be reached via rail. There's also a taxi rank in close proximity to the train station.

There are plenty of bus routes throughout Whitby. Hop on the X4 and you can visit beautiful coastal villages like Sandsend, Runswick Bay and Staithes. The X93 travels along the coast to Scarborough. The 95 route features plenty of quaint villages, such as Grosmont and Lealholm.
Dryer
Heating
Iron
Refrigerator
Stove
TV
Washer
Bathtub
Beach Front
Bed linens
Carbon monoxide detector
Cleaning Disinfection
Coffee maker
Cookware
Dishes and silverware
Family/kid friendly
Fire extinguisher
First aid kit
Garden or backyard
Hangers
Hair dryer
Hot water
Kettle
Kitchen
Laptop friendly workspace
Microwave
Near Ocean
Oven
Pack 'n Play/travel crib
Paid parking off premises
Patio or balcony
Smoke detector
Sea view
Suitable for infants (under 2 years)
Suitable for children (2-12 years)
Toaster
Towels provided
Town
Wireless Internet
Guests have access to the full property. The keys to the property are accessed via a secure key safe and full details will be provided shortly before your arrival date.

Please note there is no parking at the property. We recommend parking in the Abbey car park at the top of the Abbey steps. Charges will apply.
Check-in: 16:00
Checkout: 10:00
From the guestbook
4.60
(93 Reviews)
Chrissie
28/11/2023
It's a beautiful little cottage with views out across the harbour. It's nice to sit in the living room and hear the sea. It's easily walkable to everything. <br/>It is a little tricky to park nearby (like everywhere on the beachfront) so pack bags that you can easily walk with you to and from the car.
Lorna
23/11/2023
Superb location and the decorative design and little touches were delightful.<br/>Not really a dislike as such, but the armchairs and the bath most definitely cater for smaller framed visitors. I don't have a bath at home and was looking forward to a relaxing soak but my shoulders didn't sit well and I am by no means a giant!
Gary
19/10/2023
The view.<br/>This is the 2nd property we have booked through booking .com this year where the property owners had external control of the heating, on both occations we have paid a premium to sit with a blanket on our knee with no control of the heating. We are a couple in our 60s and live in the real world. The next property we book through any site will be one where we have control of our environment.
Alison
27/09/2023
Had a wonderful week at No 3 Sandside (September 2023); Getting luggage into the property took a bit of working out but if you are fairly fit we would recommend dropping a person and your baggage off in the turning circle for the abbey at the top of the steps and then you can park your car in the abbey car park; I then waited for my other half and we managed to negotiate down the slope rather than the steps with our suitcase and other belongings; House is wonderful - views out on the beach and harbour so peaceful and relaxing and spent many hours watching the boats come and go; Peaceful at night and everything you need in the property; Whitby is fab, loads to do and lovely eating places and pubs; would recommend Duke of York right next door and we visited Pizza West, Cosa Nostra, Trenchers and the Magpie - all of which were fab (recommended in guidebook). <br/>All in all a wonderful property and a wonderful place.
Rebecca
20/09/2023
From the start we delighted, the view was amazing and we sat watching the world go by for hours! The location was great for waking around the harbour and visiting attractions, there were plenty of places to drink and eat, we would recommend The Fisherman's Wife and The Board Inn. <br/>The house was comfortable, had everything you needed for a lovely stay, we will definitely be going back.
Jessica
11/09/2023
Outstanding view of the beach and harbour from an incredibly cosy and inviting property. We can't wait to return.
Liam
08/09/2023
A lovely place in a lovely location and is true to photos. Booking / access etc was straight forward. Whitby is good for your soul.
Richard
01/09/2023
Brill place to stay, the only downfall was parking but once we managed to find a parking spot our time here was ace, the kids loved it.
Lynda
28/08/2023
This place is amazingly located. The living room with bifold doors that open to the beach below is a wonderful place to sit and watch the harbour.<br/>Everything in the house was pristine- it all felt brand new! Beds and sofas are all very comfortable. <br/>The location is away from the busy streets but so close to everything. A haven from the crowds on the Bank holiday weekend. <br/>We'd definitely stay again.
Juergen
17/08/2023
Was für eine wunderbare Möglichkeit die Ostküste zu besuchen. Wir fühlten uns in diesem Haus besonders wohl. Die Ausstattung, all die schönen Details, die Sauberkeit und natürlich die !!! herrliche Aussicht !!! ( auch die kleine Terrasse) sorgten dafür, dass wir die Zeit so richtig genießen konnten. Durch die gute zentrale Lage befindet man sich direkt in lebendiger Umgebung mit Shops und Gastronomie und erreicht fußläufig alle Sehenswürdigkeiten der Stadt. Das Haus ist ein optimaler Ausgangspunkt, um die herrliche Küste zu erkunden. Diese Unterkunft bietet uns einfach genau die Annehmlichkeiten, die wir bei unseren Reisen so lieben.
Tom
08/08/2023
Location and veiw<br/>Only issue but didn't bother us as stated on top floor bottom floor bedroom did smell damp but didn't bother us as didn't use that room
Adrian
29/07/2023
Susan
14/07/2023
What a lovely place. Loved watching the boats in the harbour and the seal! Amazing seafood at fisherman's wife restaurant and great beer at the waiting room and Whitby Brewery
la0896
03/07/2023
We have stayed in this beach side cottage twice now and both times have been spectacular. The cottage is in the heart of Whitby located at the bottom of the 199 steps. The inside is luxurious and clean with comfortable furnishings, making it a great place to relax and watch passing boats (and the occasional seal) arriving and leaving the harbour. Since the last time we visited the owners have added a velux balcony which has completely transformed the loft bedroom. We would highly recommend this cottage and can't wait to go back ourselves soon!
Achilles 7
28/06/2023
This is our 3rd stay at this beautiful cottage. It's absolutely perfect and we can't wait to go back. Loved watching the seal in the harbour every afternoon,and the sunsets are stunning,. I wish I could share the photos with you. TIP use the justpark app for parking - we paid £2.80 a day for private off street parking a 10 minute walk away. Thank you for sharing your beautiful home with us. Will definitely be back
Peter
15/06/2023
Great location, beautiful flat. Incredible views.
Claire
04/06/2023
beach view<br/>difficult to get to with lots of bags and things for a baby.<br/>not generally ideal for children as on three levels and tight stairs. <br/>kitchen was tiny.<br/>be aware there may not be more than one toilet roll and no welcome pack with things in. <br/>we didn't even have any washing up liquid. <br/>only one t- cloth for drying pots. <br/>no milk for tea on arrival.
Dale
23/05/2023
great location in the old town.
Isabelle
19/05/2023
Fantastic cottage right on Whitby harbour beach, very private and quiet and beautifully furnished. The cottage was super comfortable and the view is worth every penny! Just one warning though, due to the set-up of the town parking is a fair ways away if you have luggage and access requires walking and the use of steps.
Alice
04/05/2023
Location, stunning view. Nice decor.<br/>Parking, but we knew that going in. Maybe more instructions/warning around how to get to the property, turning car around and unpacking car. It can be a bit of a shock if not prepared and also not realistic to walk from carpark with all the luggage. <br/>Heating didn't work properly and downstairs room got very cold. There was no washing up liquid or sponge so had to buy my own.
Andrew
27/04/2023
Lovely house in a great location! Extremely clean and comfortable and easy to find. Incredible views of the harbour! Would definitely stay here again.
Paul
13/04/2023
Great location & position
Neilcsy
06/04/2023
A truly stunning property, location and view and the details within are 10/10 Location is beautiful, access however is difficult with a car, so need to park a fair distance away with luggage and walk up the cobbled street. However it's worth it. We encountered pretty significant issues with heating the attic room, the rest of the house is central heating and fine but attic room is stand alone electric heater which has manual control locked and remotely controlled by owner. It was set to 7 degree, we have a three year old and my wife is expecting so 7 degree temperatures while freezing conditions outside are unacceptable. I was told on day 2 that it would be rectified but yet another night at 7 degree ensured our 3 year old became unwell. It was rectified by day three but we only had a day left so out stay unfortunately was spoiled but hoping this will have helped the next person. It's an expensive stay so the least I'd expect is the basics of keeping warm while zero conditions at night. However taking nothing away from the property being stunning I've still reviewed as very good, and hope to hear from the owner soon as I've had no correspondence as yet. BR Neil
Neil
06/04/2023
The property itself is stunning, attention to detail is 10/10 really lovely property and views.<br/>As stunning as the property is, we had two days of problems with the heating in the attic room where our three year old slept. The rest of the house has central heating control but the attic has one electrical heater which has manual control locked and is remotely set by the owner. I tried to get in touch the first night to change it from 7 degree and to no avail, tried again the second night and finally on the third night it was rectified. We stayed four nights. 7 degree is just not acceptable while zero conditions outside, out little one became unwell because of this. Please have the heater unlocked for manual control for the next person so they don't have to go through what we did, if it wasn't for this it's a cracking place to stay. <br/>I know others have mentioned this too and we were aware but the access is pretty difficult, had to park on the other side of the water and walk up. It's a difficult check in and out because of it but I'd say well worth the hassle, the property and location is stunning.
Graham H
30/03/2023
Just come back after a 3 night stay, lovely place, clean and well decorated. Sea views from the bifolds in the lounge and both bedroom windows Going to sleep and waking with the sounds of the sea is amazing. Close to everything in whitby, but quiet and peaceful Can't recommend this place highly enough, just go ?
Paul
27/03/2023
Absolutely loved this place, the view is incredible and the interior spec is really good. I could spend hours watching and listening to the sea with the bi-folds open. One of very few places I'd go back to
Joan
18/03/2023
location comfort<br/>parking bit of an issue
Simon
12/03/2023
The location. was fantastic - not only beautiful but ideally situated for the Abbey, Brewery, local shops and restaurants etc. It wasn't the easiest to find and with a young family packing and unpacking took some coordination but apart from that our stay was perfect. I'd recommend researching car parks in the area as the one closest is small and is usually fully. The others are a good 20min walk from the property. All fine, if you're prepared.
Gina
07/03/2023
Fantastic view overlooking the beach. Warm and cosy cottage. Very comfortable bed. Property very clean and well equipped<br/>Too many emails from host and stay, some automated and contradicting.<br/>Draught through bedroom door maybe would benefit from a curtain.
Andrew
06/11/2022
Fantastic place in the best location in Whitby! No problems at all check in was easy and the property was very clean and bright. The views over the bay are stunning and we enjoyed watching the boats coming and going day and night. The heating at this time of year was also great and very easy to use. All in all we had a great time and would definitely return.
Victoria
27/10/2022
Wow what a cottage! We stayed here for 3 nights during the October half term with our 2 children and it was perfect. The location was fantastic and being 32 weeks pregnant this really helped. It's located at the bottom of the famous 199 steps which was great. The only down side is there's no parking, however there's a long stay car park near by and we used the JustPark app and parked just a 13 min walk away. We would definitely stay here again.
Keith
20/10/2022
Great place but as emails before being given the entry details I did not like following a link in an email out of AirBnb to pay the damage waiver separately.<br/>It is in the information but If it must be paid the damage waiver should be included at the time of booking.
Diana
15/10/2022
Beautiful apartment. Very clean and tidy. Bed very comfy. The view was amazing. Loved the bifold doors, too cold to keep open. Apartment was cozy and warm. Would definitely recommend to family and friends.<br/>No parking.<br/>Take your own milk.
David
02/10/2022
Beautiful cottage <br/>Wonderful location<br/>Whitby is gorgeous <br/>Cozy, comfortable - perfect
Jane
27/09/2022
The sublime views from this property are stunning. The furnishings make this property a very comfortable base from which to explore Whitby. It's quite tricky to access the property, down a very steep slope, so make sure everything is packed into easy to carry bags and boxes.
Miriam
26/09/2022
Kim
12/09/2022
Helen M.
02/09/2022
The house was everything we hoped for and more. The decor is spot on and there can't be many houses in Whitby with a better vista. The only thing I would say though is that it is very difficult to load and unload...Church St car park was packed so we had to use the Abbey car park which is a gruelling up/downhill slog for the less fit/able. Be prepared to travel very light as you can't get close to the property with a car. Having said that, we thoroughly enjoyed our stay and would return.
Catherine
22/08/2022
Great house loved it but a little on the expensive side especially as parking wasn't cheap.<br/>It was great overall,lovely house.
Gavin
18/08/2022
Beware!!<br/>If you are thinking of booking this or a nearby property, check the dates!!<br/>The property was great but we were unaware of the Regatta and subsequent Funfair opposite to us was extremely disruptive and noisy, finishing at 11pm on the Monday.<br/>I understand this was an 'external event' but we should have been made us aware of that at the point of booking as it made dropping off our belongings very difficult, public car parks were full and the property was unbearable for 2 of the 4 nights and we had our kids with us.
Donna
07/08/2022
Beautiful property in such an unique location ! The views are breathtaking & was lovely to wake up to the sound of the waves in the sea . Great communication with the host . Everything you would need at the property . <br/>Thank you - I would highly recommend to others
Isabelle
04/08/2022
Un endroit magique ! Cottage très agréable. Une vue magnifique... Petit bémol en raison de l'absence de parking à proximité, vite oublié en raison du charme et de la situation du logement
Grant
24/07/2022
The house is in a fantastic location. Love the fact it's on the East Cliff, away from the crowds & arcades, but easy enough to reach everywhere on foot in Whitby. The living room is special with exceptional views across the harbour, out to the North Sea & West Cliff. Dog lovers would appreciate it as there are a lot of people walking their dogs on the beach below. The location is right at the foot of the steps up to the abbey & right in the old lanes of Whitby - so it's quite busy, but that side of Whitby is nice & peaceful in the evening. The property is well furnished & clean.
Laura
14/07/2022
A lovely location and beautiful view - but unloading was difficult with young children and the public beach below something to be mindful of during summer.
Nina
10/07/2022
What a beautiful house! We loved our stay here and watching the sunset in the lounge is spectacular! The cottage is very central to everything going on in Whitby and the beach views are wonderful. We would definitely like to return in the future.
Louise
08/07/2022
The view!!!! Central location and immaculate throughout. Couldn't fault the decor and cleanliness. It was a pleasure to spend time in the property and we found we came back earlier on an evening to enjoy it.<br/>We had trouble finding it. split over different levels with no way of blocking off the stairs in the living room so wouldn't be safe once our child is toddling.
Michelle
11/05/2022
Gorgeous cottage with the most amazing view of the harbour and perfectly situated at the bottom of the 199 steps. Perfect.
Rachel
28/04/2022
The breathtaking views over the harbour made this one of the best Air BnB we've stayed in. No. 3 is the most perfect place for a small family and by using the Just Park app and parking in a local's driveway, parking wasn't an issue either. Getting our things to the cottage was fine but mainly because we travelled light as we expected the walk. On this occasion we travelled with our ten month old baby and while there was a high chair and travel cot, there was no bedding or mattress with the cot which was a little unusual compared to other stays we've had. We will 100% return, year on year I expect as we had a fantastic time.
Kp
22/04/2022
This Airbnb really is as amazing as the pictures. <br/>Our only complaint was that we hadn't booked for longer!<br/><br/>The view of the harbour is beautiful and the cottage is away from the busyness of Whitby so it is peaceful at night. Super comfy beds too. But all the sights of Whitby are within walking distance, including great restaurants - Humble Pie and Mountrays and of course fish and chips on the beach.<br/>We went up the 199 steps every day of our stay.
Caroline
18/04/2022
amazing views!<br/>No washing machine.
Paul
11/04/2022
Simply stunning views across the harbour. <br/><br/>The host & stay team are very helpful and respond almost immediately. <br/><br/>For my wife, you son and I, we had a wonderful time in April 22. Thanks to the team for helping us enjoy our stay.<br/><br/>Paul, Fran and Jude!
Jane
06/04/2022
Great place lovely and clean
Jacqui
03/04/2022
Location and the view!<br/>parking not easy but the view more than outweighed the difficulty
Jane
28/03/2022
Clean, well equipped and in a great location.<br/>If you have managed to park in Church Steet don't move your car as it gets full very quickly!
Liam
24/03/2022
A really great place with a perfect view. Great for a couple or small family.
Jonathan
21/03/2022
Lovely house. Only slight downside is the walk from the car park to the house.<br/>Beautiful spot.
Helen
01/03/2022
Location was absolutely perfect, beach front. <br/>Decoration in the house was brilliant, the property was beautiful. Really fantastic stay, would 10/10 book again.
Leesa
17/02/2022
Location great , very clean but long hilly walk to accommodation as no parking onsite ..need to travel extremely light and keep fingers crossed you can park in Church Street carpark .. limited spaces..which is the closest , 10ish minute walk , otherwise it's the Abbey carpark which is even further. Shame because accommodation is great
Rebecca
07/02/2022
The location was superb and the finish on the property was outstanding, would definitely recommend<br/>Car parking wasn't ideal
Joan
15/01/2022
location and views to die for <br/>parking may be an issue in summer but we were able to drop off luggage and park in the town
Mark
16/12/2021
Beautiful place with outstanding view second to non in Whitby <br/>We will most definitely be back and would highly recommend to friends and family
Mandy
10/12/2021
location<br/><br/>a full length sweeping brush would have been useful and a hair dryer
Neil
07/12/2021
location <br/><br/>nothing all good
Emma
27/11/2021
Everything - I could not fault it n the furnishings were excellent and apt. we had everything we needed n more. It was a perfect trip for us from start to end n we were reluctant to leave. It was so quiet despite being at the heart of Whitby n right on the seafront n we had to open the window or sit outside to listen to the waves. <br/>Absolutely nothing
Eileen R
25/10/2021
Lovely house view from livingroom superb, clean and cosy, The reason I gave 4 stars was when the house was closed up there was a musty smell until windows opened, the shower was temperamental going hot or cold maybe a pump for more pressure on the hot water could be looked at.
Harry
23/10/2021
This feels like a homely place with lots of nice touches. The kitchen is very compact but well equipped, and the view from the living room is amazing. The house is right by the shops, teashops, pubs etc. but parking is very difficult - we had to park by the Co-op supermarket. The shower wasn't great but otherwise all very comfortable.
Kate
15/10/2021
Very relaxing only down side was the parking and having to carry everything what seemed a long way
Rachael
14/10/2021
Omg the views, the location the quirkiness of the house just everything. To sit on an evening with the bi-folds open and listen to the sea was just out of this world. <br/><br/>The only issue I had with this place was there was no bedroom door on the double bedroom. As we went with friends and not our children It didn't feel very private
Clare
11/10/2021
Location right by the sea, listening to the waves.<br/>No washing machine or clothes airer for wet clothes
Amanda
10/10/2021
We booked this Whitby harbour side cottage for the views and it did not disappoint,an added bonus was the suprisingly warm October weather which meant we could keep the lounge bifold doors open longer. A great location (word of advice it does involve a steep access path).
Martin
24/09/2021
Great location to explore the Town, great space and fab views.
Jackie
17/09/2021
A cottage that has a superb location overlooking the beach and harbour. The bifold doors enable you to enjoy the outdoor atmosphere irrespective of weather. Furnished to a high standard . Centrally located for several restaurants and bars. Whitby is busy so pre booking of restaurants is beneficial especially in season. Whilst this did not impact us we saw a possible challenge transferring luggage into the property if we had not been able to obtain a parking space at church street which has limited parking . We would suggest travelling light. A great few days and we will definitely want to return.
Trisha
06/09/2021
Loved staying in this beautiful little cottage, slept like a baby in the king size bed, very tranquil with the most fantastic views to the beach and harbour.<br/>Lived up to our expectations
Amy
30/08/2021
The beds were good but some rooms smelt a little musty. <br/>The heating goes back to 12 c after an hour so it was cold and it could of been a lot cleaner. Tv had bad signal.
Katie S.
13/08/2021
Lovely cottage in a brilliant location. You can unload and load outside the house but for parking will need to park in one of the public car parks as the parking space they advertise with this property is no longer available.
Catherine
08/08/2021
A beautiful house which is completely true to the photographs. The location could not get any better for exploring Whitby.
Samantha
28/07/2021
Fantastic location. - the view over the harbour and beach was amazing throughout the day with the light and colours constantly shifting . The house was.very comfortable and easy to access restaurants etc in the town<br/>It would have been helpful if we had been advised that the swing bridge is closed on Saturday during the summer between 10.30 and 4pm. This made our arrival difficult but it is possible to access the pry by car and stop outside to unload despite being very stressful due to road being very narrow and crowded with pedestrians. Parking is usually possible in Church Street and Endeavour Wharf car parks which are much better than the Abbey Car Park
Dawn
18/07/2021
The view from the lounge with the bifold doors open. Watching the sun set in the evening was amazing. So it would be the location.<br/>Unloading and loading, but there's no way round it, but might think of other ways next time. Could do with a bath mat in bathroom, but slippy when having a shower.
Jon
12/07/2021
Fantastic house with a great view of the harbour & beach.
Jen
02/07/2021
Beautifully decorated property with stunning views of the harbour. It was so nice to open the bifold doors in the living room and watch the sea and boats in the harbour. Be aware that you can't park near the property so you'll have to carry your luggage and groceries in. But it's worth it once you're there!
David
10/06/2021
Amazing property with the most incredible views!<br/>We spent most nights sat in awe watching the sunset! The cottage has everything you could possibly need, and whitby itself is very charming! <br/>We would highly recommend this property!
Colin
28/05/2021
Superb property in a fantastic location. It is just as it is shown in the pictures.<br/>Perfect for a couple or a family of up to 4.<br/>Highly recommended!
Sally
25/05/2021
Amazing view either to soak up the sun or read a book & stay dry!!! No need for the TV!!!<br/>Fluffy towels & lovely sheets. <br/>You do have to plan how to get your luggage there but it's not a problem with a bit of thought & well worth the effort. <br/>Expect to pay £9 day parking.
Katie
13/05/2021
We had an amazing stay at Sandside. The property was the most clean I have ever stayed in, absolutely everything was spotless. <br/><br/>It is decorated beautifully with so many amazing touches which made it so much more than your standard air bnb.<br/><br/>Waking up to the beautiful view and the sound of the waves was perfect. We had coffee out on the terrace in the morning and drinks whilst watching the sunset in the evening.<br/><br/>The only negative points were parking. The sat nav brought our car to a car park around 10 minutes walk away which was a nightmare to get all of our stuff from the car going up/down hill. We found a closer one by the bay but there are very limited spaces. Parking is £9 for 24 hours in most car parks. <br/><br/>In terms of the property the heating was temperamental and capped quite low, at times it was really cold and the heating didn't come on for around an hour and then switched off quickly. I also had 3 baths whilst there and it ran out of hot water when half way full each time. I would say that the shower was really hot and powerful.<br/><br/>Overall an amazing stay and I would definitely recommend. Thank you so much!
Louise
06/05/2021
Great location (pack light as you'll need to walk from the car park). Communication was very good before and during.<br/><br/>Things to note, no dishwasher, no door to living room or downstairs bathroom either.<br/><br/>View was beautiful and overall it's a nice place to stay, would recommend to anyone looking for a short break in Whitby .
Emily
02/05/2021
Me and my family stayed here for a weekend and were so impressed. It's ideal location made it a must stay in Whitby for us, being so close to the beach and all the best shops and pubs. The house was really clean and bright - the modern beach decor made it feel really luxurious and we especially enjoyed sitting outside in the sun on the large secluded patio area. Couldn't recommend it enough - will definitely be coming back!
Judy
30/04/2021
Lovely a accommodation, comfortable and warm which was great as the weather was quite cold for the time of year. Plenty kitchen equipment if you want to prepare meals, but it's so close to plenty places to eat and drink or takeout if preferred.
Deborah
27/04/2021
The stunning views / location
Kassie
21/04/2021
Amazing place in a great location, the view is just incredible and every night we sat with the doors open (with wine of course) and listened to the waves- Perfect so relaxing! <br/>Would come back here in a heartbeat 100% worth it. <br/>The water in shower was luke warm/cool on the first night but it was quickly resolved and was great.
Jane
18/04/2021
Jane
08/01/2021
3 Sandside has the most amazing views across the harbour. It is very tastefully decorated and it is a pleasure to spend time there. We hope to return again hopefully when some of the restaurants are open again.
Ben
03/01/2021
An incredibly, memorable stay in the best spot in Whitby. Place felt like home, it had sufficient space and a lot of lovely touches about the space. I've stayed in Whitby over 20 times over the years and this is right at the top. Just fabulous.
Sandra
31/12/2020
We loved our stay. Very clean, cosy and the view was fantastic! We wouldn't hesitate to stay here again. <br/>There wasn't anything we didn't like, the only thing we noticed was around 5am each morning there was a loud clicking noise which sounded like it was due to the heating/pipes. It wasn't a problem though.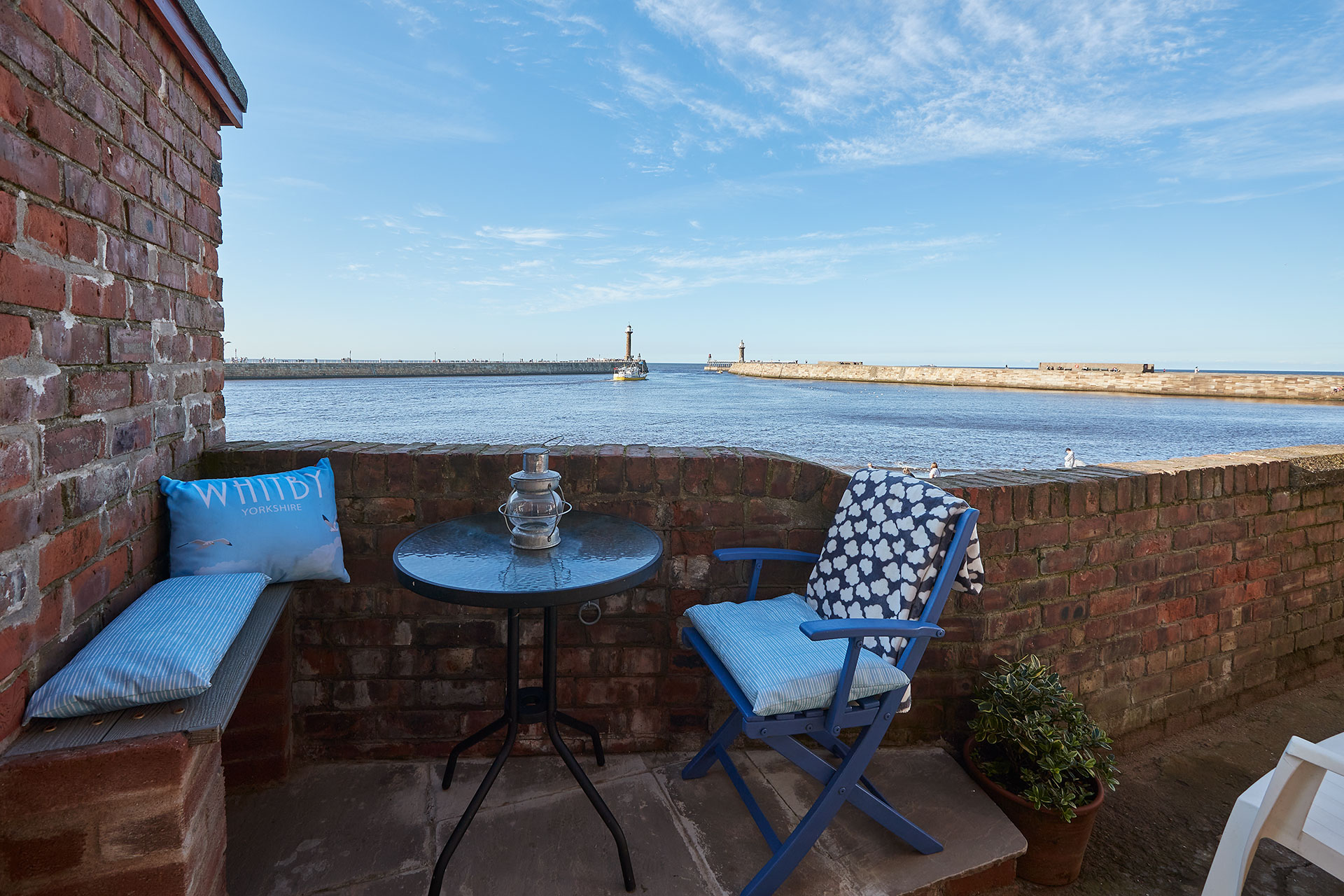 Home Truths
Unloading outside of the property is usually available but there is no designated parking space.
No.3 Sandside spans over four floors so may not be suitable for those with mobility issues.
The property doesn't have a separate dining room. Does not accept two night bookings. No gap fills and no 2 in 70.