Beautifully refurbished to the highest standard, harper_bythesea is a striking lower-ground apartment in the heart of Whitby. Just a few steps from the beach and all the local amenities, this stunning holiday apartment is the perfect place to rest during your seaside break. Sleeping up to four guests across two bedrooms, harper_bythesea provides a luxury self-catering staycation to remember.
Trip Details
Property Highlight #1
Stunning Interiors
Stylish décor flows throughout the apartment and you'll feel at home as soon as you step through the front door.
Property Highlight #2
Open Plan Space
You'll find a spacious open plan living, kitchen and dining area. Ideal for socialising and entertaining, this space is perfect for the whole family to enjoy time together.
Property Highlight #3
Dog Friendly Apartment
harper_bythesea is dog friendly!
The Space
harper_bythesea is located on the lower-ground floor down one flight of stairs. As you explore the apartment, you'll find impressive interiors and premium furnishings. Carefully curated with rich jewel tones of sapphire blue and emerald green, there is a cosy and homely feel throughout.

Head to the open plan kitchen, living and dining area and you'll find a stylish space with plenty of flair. The statement blue feature wall features a recessed flat screen TV and glass fire to create an ultra modern look. Retreat to the velvet sofa after a day of exploring Whitby and enjoy a night in with your loved ones.

The kitchen has dark navy cabinets, high shine worktops and white herringbone tiles. Fully equipped for all self-catering stays, there is an oven, hob, microwave, toaster, kettle, fridge and dishwasher. There is also a coffee maker in the apartment so you can have delicious coffees during your stay.

Also sharing this space is the dining area. With a round glass table and four green velvet dining chairs, this is the perfect place to entertain friends and have family meals. Order a takeout for delivery or cook one of your favourite dishes in the kitchen - either way, you can enjoy it in this very spot.

Along the hallway, you'll find the first double bedroom. With a feature wall, gold bedside wall lights and a royal blue velvet bed, this space has been designed with luxury in mind. A large wooden mirror, matching bedside tables and velvet sofa furnishings complete the look.

The second double bedroom has a softer colour palette with light blush walls and an olive green bed. You'll enjoy your sleep as harper_bythesea has plush bedding and premium linens. The look is finished off with jungle print cushions and a matching green throw.

The bathroom is just as stylish as the rest of the apartment. Featuring dark blue walls, white tiles and a quirky patterned floor, it certainly has a striking look. The space is complete with a bath and overhead shower, WC and double vanity unit.
Neighborhood
The centre of Whitby, and Whitby Harbour, are just a few short steps away from harper_bythesea so it's ideal if you want to experience what life is like living by the sea.

The area is famous for the quality of its fish and chip restaurants, and there are plenty of places where you can sink your teeth into a fresh catch. When you fancy a drink, you'll find a variety of bars as well as pubs and shops in the local area.

Whitby is also famous for Bram Stoker's gothic novel 'Dracula'. You'll find plenty of sites near the apartment with historic interest relating to the story. The main inspiration can be found at the renowned ruined Whitby Abbey.

Step outside of Whitby and you'll uncover a haven of woodland and moorland. In particular, Dalby Forest and Guisborough Forest, just a short drive away and they both have various beautiful walking and cycling routes to explore.
Getting Around
Just a short walk from the apartment you will find the harbour, train and bus stations. Villages and towns along the North Yorkshire coast can easily be reached via rail and road. There's also a taxi rank in close proximity to the train station.

There are plenty of bus routes throughout Whitby. Hop on the X4 and you can visit beautiful coastal villages like Sandsend, Runswick Bay and Staithes. The X93 travels along the coast to Scarborough. The 95 route features plenty of quaint villages, such as Grosmont and Lealholm.
Heating
Iron
TV
Washer
Dishwasher
Bed linens
Coffee maker
Cookware
Dishes and silverware
Extra pillows and blankets
Family/kid friendly
Fire extinguisher
First aid kit
Hangers
Hair dryer
High chair
Wireless Internet
Towels provided
Toaster
Suitable for infants (under 2 years)
Suitable for children (2-12 years)
Private entrance
Pets allowed
Wide clearance to bed
Refrigerator
Children's books and toys
Children's dinnerware
Bathtub
Kettle
Kitchen
Microwave
Oven
Laptop friendly workspace
Smoke detector
Pack 'n Play/travel crib
Hot water
Crib
Guests have access to the full apartment. The keys to the property are accessed via a secure key safe and full details will be provided shortly before your arrival date.

We provide a parking scratch card for your stay which gives you free parking in the W zones in Whitby. Additional free parking can be found nearby, and full details will be sent to you before check in.
Check-in: 16:00
Checkout: 12:00
From the guestbook
4.52
(66 Reviews)
Mark
02/05/2022
Ideal property for a stay in Whitby,. Internally it is exactly as the pictures portray and was very clean and comfortable for our party of 3 adults.
Located near to the West Cliff and close to the town centre.
Would certainly recommend and hope to stay there again in the future.
David
30/04/2022
Good standard of finish with good quality furnishings. We had everything we needed to enjoy our weekend.
The outdoor space was incomplete, the windows were dirty from the patio works. The hallway is hard to navigate in darkness ( maybe some automatic lights would be useful)
Samantha
19/04/2022
Heather
19/04/2022
Natalie
18/04/2022
Eoin
14/04/2022
spotless, well equipped, great location
v little. front door lock was broken.
Alison
13/04/2022
Exactly as it is in the photographs! So clean and beautifully decorated. Fresh white crisp towels and bedding. And a daily message to make sure everything was ok was a lovely touch too.
The front door and communal entrance is very tired and a bit off putting and the key boxes are hidden from view and not marked which box is for which flat so that didn't make a good first impression. But once you walked through the apartment door, all that was forgotten.
Zoe
07/04/2022
Suzi
04/04/2022
First impressions weren't great. There was work being carried out on the exterior of the property (which we had not been made aware of), so the front was a building site. The main communal door was in a state of disrepair, had a broken Yale lock and the communal hallway was reminiscent of a 1990s student bedsit.
Once in the flat itself though, we found it warm and inviting. Very clean and the decor lovely. Kitchen well stocked however there was a carton of milk 4 days out of date in the fridge.
We did not log on to WiFi due to the strict data sharing requirements (you gave permission for the company to access your data and phone information).
Beds are comfortable and flat quiet at night....then at 830am we were awoken by the workmen at the rear garden directly outside the bedroom window! We checked out shortly after.
Location is good for the beach and walk down to the town.
Clean and comfy but wouldn't book with this company again. Didn't feel it was value for money.
Darren
20/03/2022
Location excellent. Most things were very good
Beds not as comfy as expected. Tap in kitchen leaks, left hand basin plughole stuck in bathroom. radiator instructions non existent..
Becky
16/03/2022
Perfect location and lovely and clean. Would definitely stay again ?
Ben
06/03/2022
Fantastic apartment in a brilliant location! Loved the decor, furnishings and bathroom etc. There's room in the second bedroom for a travel cot and the apartment is toddler friendly. Parking easy and convenient. Enjoyed our time on the coast and would stay here again.

A few minor feedback notes:
- The key lockbox has no sign/markings so hard to know which one out of the 5 that your key is in.
- There was a print out left in the entrance to the apartment that gave advice on how to activate the hot water so I spent 20 mins trying to find the "off peak" button supposedly located "in the storeroom off the hallway" (which didn't exist). After more investigation the actual welcome manual in the living area states that the hot water is "on demand". Best guess is that the hot water instructions were left by accident and may be relevant to another apartment.
Bernadette
27/02/2022
dog friendly, private yard with rear and front entrance. stunning interior and so clean with everything you need for a few days away. great location too
Wayne
22/02/2022
Matt
06/02/2022
Great location and the flat is really nice and comfortable. The flat has been finished to a really nice standard and everything works perfectly. Great for central Whitby, promenade access and not far from the Cinder Track. Thanks, Matt
Martin
30/01/2022
we liked the modern decor it was very clean and the facilities we excellent
nothing to report
Ida
05/01/2022
Lovely apartment right near the heart of Whitby. The location was perfect and the apartment lovely with great attention to detail and decorative finishes. The communication was great and we felt very well informed before arriving.
Julie
03/01/2022
Very clean, modern flat. TV and facilities great. Lovely bathroom. Access via the backdoor is more convenient than using the front.
Wifi is very patchy. One bedroom is very small with no storage.
Sarra
20/11/2021
Steven
14/11/2021
Ryan
12/11/2021
Victoria
02/11/2021
Finished to a beautiful standard. Cosy and conveniently located. The host were very communicative with check info.
The free WiFi keep dropping off and there was no WiFi signal in the master bedroom and none in the second bedroom if you shut the door. We had to go in the living room if we wanted to use the internet at all. Think is needs improving, especially given the good standard of the rest of the property.
Matthew
31/10/2021
We loved the decor and it's proximity to the sea.
Graham
25/10/2021
Sarah
16/10/2021
All clean and fairly new
Outside was tatty, courtyard couldn't be used. Kitchen poorly equipped-no bread knife (we had to buy one) only 4 cups, plates etc so dishwasher was useless. Getting out of bath was dangerous. Wi-fi poor. Parking wasn't easy.
Francis
13/10/2021
Rebecca
26/09/2021
absolutely beautiful apartment with a little courtyard which the pooch liked was safe and secure
Darren
24/09/2021
Excellent accomodation, very central and convenient for the town and surrounding area. Accomodation was very clean and had everything you need.
Parking is an issue but we always found a space where the pass allowed but parking in the town appears to be at a premium.
Vicky
16/09/2021
Brittany
11/09/2021
We loved our 7 day stay in this accommodation, the location was great and the host was very helpful.
Deborah
02/09/2021
Stayed at Harper bytheSea for 3 nights. The apartment has high quality fittings and is beautifully furnished. Loved the large TV and lovely bathroom with 2 sinks. The apartment is in a central location about a 5 minute walk to the harbour. The apartment has a cosy feel, was spotlessly clean and we would stay again.
Would have been useful to have a few hooks to hang coats up in the hallway and a little more hooks or storage for clothes in the second bedroom but loved the apartment overall.
Andy
28/08/2021
Jackie
23/08/2021
N/A
The fact one of our party got locked in the central bathroom , where the lock broke with the keys to the apartment inside
They were stuck inside with apartment keys we were stuck outside , it took three hours of him in the bathroom in the basement to get him out, we do realise this was a freaky accident but scary non the less
Eve
16/08/2021
really lovely property in a great location! we loved our stay. one bed(room) is definitely on the smaller size, keep in mind if booking for 2 couples ( although we are all tall)!
apart from that it was a perfect stay with helpful hosts, everything you need and done out really nicely.
Sonya
08/08/2021
The place was amazing only place I've been where it was exactly as in the pictures.
Spotlessly clean
Comfy beds
Lovely modern bathroom
Shower was good.
I would definitely recommend to anyone.
Will be booking again.
WiFi not great in 1 bedroom. .but did not affect our stay.
Maeve
06/08/2021
Stylish, comfortable, perfect location and our little pug could stay with us. We will def be back, ThAnkyou!
WiFi wasn't great
Michelle
02/08/2021
Everything was perfect we loved our stay. Really great location.
Would be nice to have a nice seating area out back.
Anonymous
28/07/2021
The location, the quality of the property, and facilities in the property where fantastic.
The TV was a smart TV, they had an alexa for music which was a nice touch we didn't expect.
They were very accommodating when we asked for a second parking permit.
Not relevant to the apartment but the staff in surrounding restaurants were so rude, if it wasn't people giving mucky looks it was people making unprofessional comments (one lady said when we were taking our food order that she was 'past caring taking our order' this was at a very high rated restaurant.
The beds weren't to out comfort, the sheets and pillows were lovely but the mattress was way too firm.
The toilet rolls provided were awful (Close to single ply)
Kathryn
25/07/2021
2 nice rooms .Decent size living area.Lovely bathroom. Perfect location.Could walk everywhere.
Sea gulls screeching ?? but you can't stop that.No freezer.
Michael
19/07/2021
Estee
15/07/2021
Beautiful apartment, was immaculate when we arrived. Location was perfect especially for little legs, so close to the centre and beach.
Ideal apartment for a family with young children, as both bedrooms are next door to each other.
We will definitely stay again.
Jon
05/07/2021
Lovley apartment, amaculate would definitely stay again
Lisa
02/07/2021
The inside of the property is absolutely gorgeous, the design of the whole flat is very classy and well maintained. We would definitely return as the location is very good too .
When we arrived at property we couldn't access the inside as the key lock was jammed so we had to call someone to come out which they quickly did . We were lucky we arrived in their opening hours . The outside of the property does not reflect the inside at all it is very shabby and there's a strong smell of smoke in the corridor . Also the back yard has not been touched . There was a sign to say these are to be sorted and have understandably been delayed due to Covid once they are I'm sure the property will be 5 star ?
Michael
30/06/2021
absolutely beautiful apartment definitely recommend
Anna
27/06/2021
Gina
21/06/2021
Couldn't have wished for better location
Beautifully decorated
Lovely comfortable apartment
Would definitely stay here again
Gary
18/06/2021
Good location, close to all the action.
No freezer, couldn't make ice for drinks or treats to cool the dog down.
James
12/06/2021
Mark
03/06/2021
Aisha
26/05/2021
A really lovely place to stay. The location is perfect, literally minutes walk away from the harbour.
The house was finished spectacularly, comfy chairs, sofa and beds. A great place to relax after a busy day by the sea.
Matthew
07/05/2021
A fantastic place to stay, so close to the beach, well recommended.
Ian
07/05/2021
Location
Outside patio. But have been told that this will be landscaped soon
Darya
05/05/2021
Beautiful apartment, one issue was wifi disconnecting all the time and network is not amazing in the area. Other than that fantastic stay
Nicola
18/01/2021
Clean , modern and fab location .
Maisie
02/01/2021
Very impressed with this holiday home from home. Very well furnished with everything you would need for your stay, exceptionally clean and in a great location on the sea front with a short walk to the centre. I would definitely recommend to anyone thinking of staying in Whitby, we will be back again for sure!
The only issue we struggled with was phone reception but the free WiFi was an added touch
O7363SPsuzanneb
06/11/2020
Took a well needed break here with a friend just before lockdown and it was just what we needed. From the outside the blocked looked quite run down so we were really surprised when we opened the door to the apartment. We jokingly referred to the it as the 'rock star pad' and that's the level of luxury it had. Between us we have stayed in some classy places and this was way up there with the best. The fixtures, fittings and furnishings were top quality. More like a luxury hotel than a self catering holiday flat. Some nice surprises were the well stocked cleaning cupboard, toiletries, fluffy towells, tea and coffee in the cupboard and even a bottle of milk in the fridge. I wasn't expecting a parking pass either and parked right outside the apartment which was fantastic as its in a great location right by the sea front and town. If I had to be picky I would say the lounge area needed a coffee table or somewhere to park your glass of wine when you're chilling on the sofa.I have no doubt I will be back here as many times as I can afford!
Anonymous
27/10/2020
The property was really nice inside and very modern. It was generally clean.
The walkway in to the property and the outside front and back needs a little bit of attention. We also had problems with the boiler but they were sorted easily.
Steven
22/10/2020
Gave the stay an overall 3. The place was great, well located, etc. The only problem we had was that for half our trip we had no hot water.

We reported the problem as soon as we noticed, and I have to say, Callum was fantastic. He did everything he could to try and solve the issue. We had multiple visits from Stay, electricians, etc. but we still had no hot water.

We were promised some compensation for our stay due to the lack of hot water, but no-one has contacted me about this (now two weeks after the trip).

The facilities were good. But the cutlery, plates, glassware were all dirty. Knives still had food on, the mugs were stale smelling on the inside and a glass had lipstick still on it. As I'm sure most people would, we would have cleaned these regardless, however, it's not what you'd expect from a place.

COVID cleaning regulations seemed good, we were asked when we left to wipe everything down with the alcohol wipes provided. There was also been plenty of soap and cleaning products provided by Stay.

Overall, 3/5. Had there been hot water, 4.5/5.
Becky
22/10/2020
Angie
16/10/2020
Harper's by the sea is a lovely apartment supa clean . The location is perfect literally a stones throw from the beach and the harbour at Whitby
The host was really helpful and communication was very efficient
Don't be put off by the lobby the apartment is beautiful it is just as it looks in the pictures . There 4 of us all adults and the space was big enough for us all
There was a book with recommendations for dining and we did try a few and were not disappointed .
I would definitely recommend the apartment for a Whitby break
Neil
11/10/2020
Perfect for that quick trip away.
Vanessa
03/10/2020
The apartment was exceptional, clean well maintained, everything you could need, it was a home from home and in a great location, the apartment had an outdoor space which was secure if you have pets or children.
There was a smell of cigarette smoke in the corridor before entering the apartment it was no issue once inside the front entrance could do with some maintenance. I wouldn't let any of these put anyone off though.
Dominique
30/09/2020
Great location and gorgeous apartment. We love our stay.
Clare
24/09/2020
This apartment is immaculate inside. I'm led to believe we were the 2nd booking on this apartment and I really do hope they keep it in this condition. Would be a massive shame if it's left to get 'tired'. Obviously lots of work has gone into the refurbishment and interiors. Hopefully the back yard can get a little facelift and it will be perfect. Great location in Whitby and really
enjoyed our stay. Pretty much everything in the kitchen you could need and a pint of milk in the fridge! Drop a corkscrew in ??. Will be booking again.
The backyard could do with a little facelift to bring to the standard of inside.
Victoria
20/09/2020
This apartment is stunning and spotlessly clean
We had a great stay it had everything we needed and it was in a great location
Dave
18/09/2020
Excellent in side.
Over priced and couldn't sleep due to front door not closing back gate banging all weekend in winds no way of fastening it.
Lack of sleep due to noise and security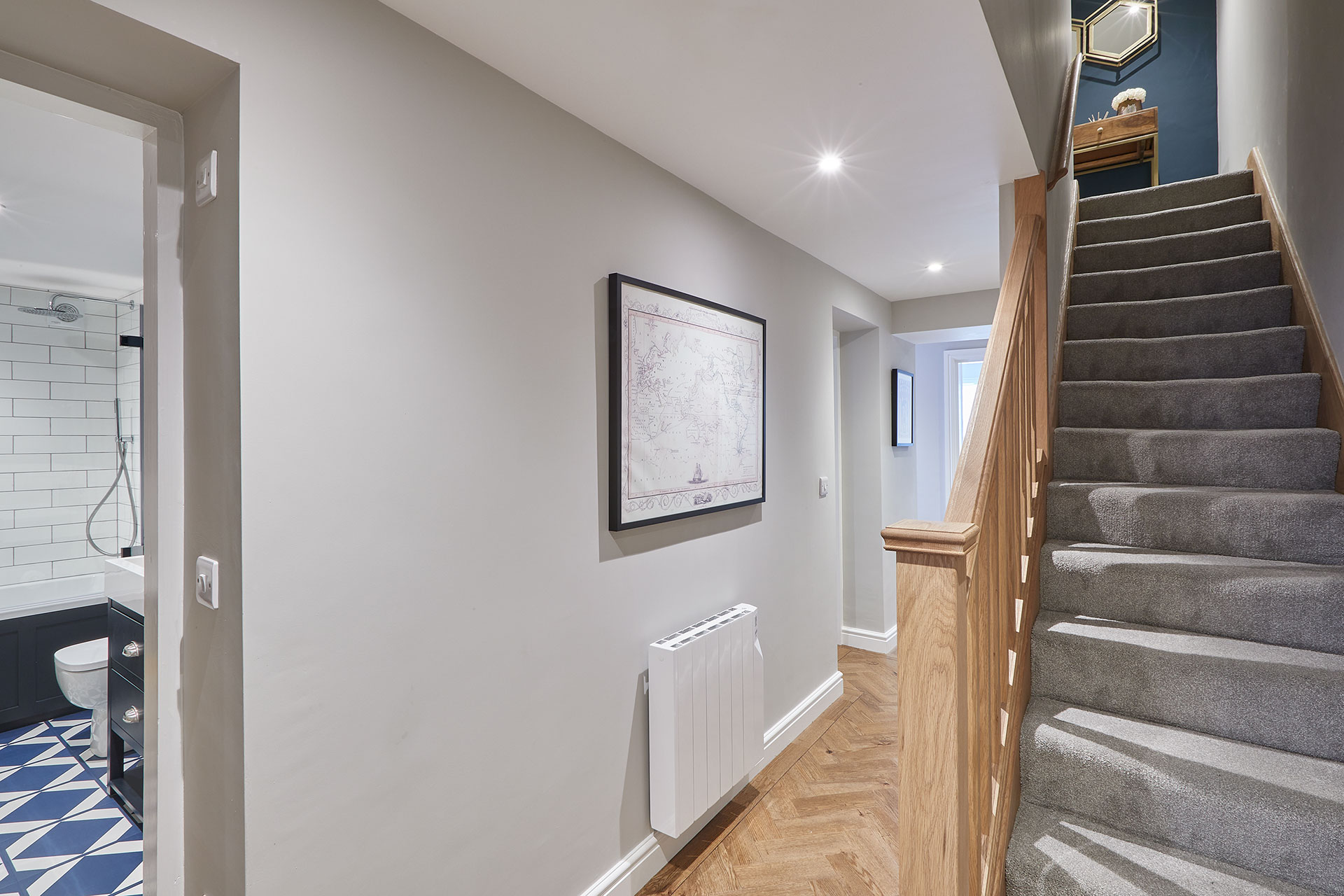 Home Truths
Parking isn't included however free parking as well as a number of pay and display car parks can be found nearby, and full details are sent prior to arrival.
harper_bythesea is a lower-ground floor apartment so you will need to travel down one flight of stairs.
Work is planned for the outdoor space so this will be improved for guests.
Similar Properties in the area
Cosy Coastal @ Golden Lion Apartments
Cosy Coastal @ Golden Lion Apartments