This exceptional former rectory has been renovated to a 5* standard, allowing its character to flow through the property perfectly. With five bedrooms, four bathrooms and extensive gardens including a tennis court, this stunning holiday home will provide a truly unforgettable stay with memories that will last a lifetime. Sleeping up to ten guests, this dog friendly property is ideal for family gatherings and friendly get togethers.
Trip Details
Property Highlight #1
Interior Elegance
This former rectory has been beautifully renovated to the highest standard whilst still keeping all of its original charm and character.
Property Highlight #2
Tennis Court & Gardens
The Old Rectory boasts large gardens surrounding the entire property, and even comes complete with a tennis hard court.
Property Highlight #3
Extensive Living Areas
Measuring at over 3,000 square feet, The Old Rectory is not short of space. You'll find three seperate living areas to choose from, and kitchen-dining space perfect for entertaining.
The Space
The Old Rectory has been recently refurbished to the highest standard. With premium furnishings and beautiful finishes, you can expect a truly luxurious stay.

Head to the living room and you'll find a comfortable space with velvet sofas and statement chairs. Turn on the flat screen TV to keep up with your favourite shows or spend quality time with your loved ones.

The property has a spacious open plan living and dining area. A real social hub, this space is great for relaxing with your party. The dining area includes a large table with seating for up to 10 guests.

Fully equipped for self-catering stays, the kitchen has everything you could need to prepare meals easily. Shaker in style, the dove grey cabinets are super stylish and in keeping with the rest of the decor in the property.

The Old Rectory boasts five spacious bedrooms. There is a bedroom on the ground floor with a king size bed. The rest of the bedrooms are located on the first floor and they include a king, a twin, an ensuite king and ensuite double.

There is a shower room on the ground floor and the main bathroom is located upstairs.

Outside you'll find extensive gardens with outdoor furniture. The perfect spot for a morning coffee or an evening tipple, the garden is a real added bonus to this beautiful property.

Host & Stay are committed to our owners that their homes are protected during bookings. For this reason, we require all of our guests to transfer a £250.00 Damage Deposit (subject to a £10.00 administration charge) or, to purchase an Accidental Damage Waiver for £25.00 which will cover you for up to £500.00 of accidental damage during your stay.
Neighborhood
Named as 'One of the Best Cities to Visit in 2020', Durham is a beautiful and charming area within the North East. Known as the 'perfect little city', Durham has the best mix of everything and it all blends seamlessly. It retains its medieval heritage but it also has a modern and vibrant twist. It boasts lush green landscapes but it also has busy cobbled streets with independent shops, bars and restaurants.

Durham has plenty of history within its walls. One of the most spectacular historic sites is Durham Cathedral. Constructed between 1103 and 1133, this towering building is a shining example of Norman architecture. The cathedral is now the oldest surviving building with a stone vaulted ceiling of such a large scale.
Getting Around
The centre of Durham is a short ten-minute drive from The Old Rectory.

Durham train station is 5-minute drive away so nearby towns and cities can easily be reached via rail. There's also a taxi rank in close proximity to the train station.

There are plenty of bus routes throughout Durham. Hop on the Arriva 6 route to visit Barnard Castle or the number 22 which travels through Seaham and Sunderland.
Pets allowed
Suitable for children (2-12 years)
Suitable for infants (under 2 years)
Dishwasher
Dryer
Free parking on premises
Heating
Refrigerator
Iron
Stove
TV
Washer
Bed linens
Carbon monoxide detector
Cleaning Disinfection
Coffee maker
Cookware
Dishes and silverware
Essentials
Family/kid friendly
First aid kit
Flat smooth pathway to front door
Garden or backyard
Hangers
Hair dryer
High touch surfaces disinfected
Kettle
Kitchen
Wireless Internet
Wide hallway clearance
Toaster
Towels provided
Town
Step-free access
Smoke detector
Shampoo
Rural
Private entrance
Patio or balcony
Path to entrance lit at night
Oven
Microwave
Laptop friendly workspace
High chair
Crib
Guests have access to the full property. The keys to the property are accessed via a secure key safe and full details will be provided shortly before your arrival date.

There is ample private parking available at the property which is accessed via a gated private driveway.
Check-in: 16:00
Checkout: 10:00
From the guestbook
4.71
(77 Reviews)
Clare Louise
19/11/2023
We had a great girly weekend here,plenty of rooms for everyone,We are looking forward to another stay
Charles
13/11/2023
The house is beautiful and very spacious which makes it a perfect place for a large gathering, will probably come back once the below has been addressed.<br/>The instructions to reach the house were not clear and the host was not very helpful in indicating the correct location.<br/>Hosts and Stay is an external organisation that requires additional insurance payments, and this is now made clear on the listing, but wasn't when we booked. They will also retain a 10£ for "admin" reasons, which feels very much against AirBnb rules requiring no additional payments outside of the platform.<br/>The property listing advertises for 10 guests, and there are enough sleeping spaces but there are not enough wine glasses, plates, etc. Furthermore, the dining table has 7 chairs, with an additional chair that could be collected from another room, but it is hard to seat 10 people around.<br/>The AGA in the kitchen could not start and the host was unreachable for help, which prevented us from cooking for the kids.
Liv
29/10/2023
Nice stay, the house is beautiful and very clean. <br/>Host and stay are an external organisation so they ask you to pay an extra damage deposit (either £250 refundable or £25 non refundable) that was not mentioned in any other reviews and this is done through a link in a message. Once I called to check it was legit it was ok to navigate. <br/>The check in instructions were clear but unfortunately the code for the gate was missed off which meant we had to wait on the phone for a few minutes until we had a response from host and stay so make sure you have this before going.
Pauline
25/10/2023
The Old Rectory is a great venue for a large family gathering with plenty of space and off road parking for several cars. It is well located for visiting Beamish, Diggerland & Durham.
Heather
22/10/2023
Amy
07/10/2023
We thoroughly enjoyed our stay. The host communicated extremely well and responded to queries quickly and efficiently. Highly recommend!
Joe
03/09/2023
Best Airbnb I have used, the property is well beyond what I expected in regards to size and decor. Nice and private location with ample surrounding area.<br/>Hosts were really responsive will definitely use again.
Ignanke
28/08/2023
De kook voorziening was een Aga oven met 2 kookpunten die werkte op gas. Er was wel een kleine gebruiksaanwijzing aanwezig, maar daar kwamen wij niet helemaal uit. De oven moet heel de dag aan staan om avonds een iets te kunnen koken, wat erg lang duurt. Nadeel is dat daardoor de woon-keuken de hele dag heel warm is.
Fiona
31/07/2023
Lovely house with lots of character, outside space was a bonus<br/>Nothing
Lynn
26/07/2023
Inside was lovely.<br/>Outside areas very untidy. Rubbish overflowing. Gardens overgrown. Weeds everywhere including the front entrance. Hanging baskets were dead with weeds in too. Patio areas needed weeding and cleaning.
Terry
10/07/2023
Beautiful home with secure gardens. Within easy reach of Durham. Would definitely return.
Rashmi
07/07/2023
A beautiful house, great location, easy to reach Durham (by car). The house was mostly wonderful as described, and the hosts were very responsive. However, there were some aspects of attention that could have made the stay better.
Jenny
22/06/2023
Lucy
11/06/2023
Beautiful property beautiful location but in need of some TLC especially for the price paid
Andrea
30/05/2023
Lisa
26/05/2023
Highly recommend! Great property
Michelle
21/05/2023
Large house with plenty of space and easy access to surrounding area
Lisa
19/05/2023
Recommend this property! Very clean & tidy.
Melissa
14/05/2023
Lovely big house for our weekend visit with friends. Great communication before/after.
Lisa
12/05/2023
Returning guests! Great property.
Lisa
05/05/2023
Perfect property to our employees working in the area! Highly recommend.
Lisa
28/04/2023
Julie
14/04/2023
The Old Rectory was an excellent house, perfect location for our family and a good amount of space. The bedrooms and bathrooms all well presented. Facilities good. Secure garden for the puppies too. Would definitely recommend this house for large groups and family gatherings.
Andy
03/04/2023
The old rectory is a fantastic house, very spacious and well presented. The house is really nicely decorated to a high standard and ideal for our extended family (9 of us) during a long weekend stay. <br/><br/>The house was really warm during our stay and the gardens & tennis court a bonus for the kids to play in. <br/><br/>Ideally located for exploring the local area with good local transport access into Durham.
Lisa
24/03/2023
Our employees were working in the area and loved their stay at this property! Host was always quick to respond and very helpful. <br/><br/>Would highly recommend!
Jamie
19/03/2023
Beautiful house. Would highly recommend for a large group. 10 minutes drive away from Durham City Centre
Nicola
07/03/2023
A very lovely stay at this property to celebrate a special family birthday. The host gave very clear instructions on how to find the property on arrival (because it is a little hard to find if following a sat nav.) Despite being on a busy road there was no road noise. There is a massive driveway to park cars. The beds were very comfortable and there was lots of space within the property to enjoy whilst making it feel homely. It is well decorated with nice touches. Highly recommend if visiting the North East.
Ethan
27/02/2023
Amazing property ran by a lovely and organised team. I arranged a surprise party for my partner here and they were on hand whenever I had a question and even let us check in earlier. The property itself was absolutely beautiful as well as being spotless. Everything you need is at your disposal from cooking equipment to tennis racquets this place has everything. Everybody woke up the next day and said how good of a sleep they had as well with the beds being amazing too. I would love to stay here again and can't recommend it enough
Georgina
17/02/2023
This is just as good as it looks In the photos. We had a lovely family reunion here with seven adults and four children. Spacious enough for all of us. The grounds are v big. <br/><br/>.It is a little tricky to find a postcode will take you to a different location but the company aware of this and if I bet if I would've found it easily of I had followed their tips.<br/><br/>There is a fence around the property that keeps children and pets safe from running onto the busy nearby road. the only downside is that with all the fencing there's no possibility of going for a walk around the property you have to get your cars and drive to do that. <br/><br/>My only complaint will be that they were no dishwasher tablet, oil, salt or pepper . So one of us had to go out and drive and pick these up which is a shame given how much we paid! Also they could do with a dustpan and brush on some cloths. It was hard to keep the property clean. Otherwise no real complaints and I'm sure we will book when we have another family r
Michelle
22/01/2023
This house is beautiful. The rooms are very spacious and we loved the number of lounge areas and TVs. There's plenty of room for parking too. Loved it so much that we me well book again in the future.
Kevin
04/12/2022
Absolutely beautiful house, really nicely decorated and finished throughout, very spacious and had everything we needed. Great location with its own private gated driveway. Tennis court would be brilliant in the summer!
Ken
30/11/2022
Superb accommodation with excellent internal design features.<br/>3 wooden dining chairs were in a dangerous condition (creaking wobbly legs) and one collapsed under me while I was sitting on it twisting my back and banging the back of my head on the stone floor.
Jessica
09/10/2022
Lovely stay with a group of friends for the weekend. Excellent location and close to the city, would definitely recommend!
Viviana
06/10/2022
We throughly enjoyed our stay. The house was large with all rooms finished to a high standard. Also good location, close to Durham.
Jake
23/09/2022
A wonderful stay where we were able to join together from Berlin, Suffolk, Essex and Newcastle for some family time. House was gorgeous and the grounds for our dog were phenomenal, could not fault the stay and we all thoroughly enjoyed ourselves! The large kitchen/diner is also a great social space and the tennis court was used daily for some friendly competition games! <br/><br/>We had the best time, will gladly return! Thank you.
Fiona
05/09/2022
A wonderful, large house, very comfortable with large gardens<br/>Some lamps in the lounge would be good as the overhead lights are very bright, we had to borrow one from one of the bedrooms
Helen
29/08/2022
A lovely house with fabulous gardens. We had a great weekend and would certainly come again.
Sajeed
24/08/2022
Had lovely time. Good communication.
Nicholas
19/08/2022
We really enjoyed staying at this lovely old Rectory
Jon
12/08/2022
The property is in a perfect quiet and private location with amazing facilities, gardens and grounds. Interior design is spot on, Communication was excellent although being reminded to check out almost a whole day before check out is due does rather spoil the last day! Just a matter of timing maybe but most people already know when they're due to check out.<br/>If I could I would give the property 9.5 out of 10 rather than 10 out of 10. This was due to the slight lack of cleanliness of the property. The carpets were not very well vacuumed and the windows and blinds were actually filthy. Cobwebs with dead flies all round the outside of the windows and also around the key box where you have to enter the code to retrieve the key. Also around the exterior gates which we could not get to shut. Overall this was over-shadowed by the superior elements listed above - but cleanliness could have been better.<br/>Also almost all of the windows could not be opened which wasn't great in 32 degrees heat.
Chris
24/07/2022
Incredible property, the size and layout serves a large group of guests so well. The facilities throughout the property were of a high standard. Easy to check-in and easy enough to find. <br/><br/>Such a great space.
Stuart
20/07/2022
An absolutely lovely place, in a great location and within some great grounds. We had this booked for a couple treat away and the place was spot on. The place was super clean, very well presented and matched to our expectations by the pictures. The space outside was lovely to enjoy in some very hot weather. Good communication from the team throughout and made for a very enjoyable stay away.
Ahson
18/07/2022
Fantastic hosts, lovely house, beautifully furnished and extremely spacious.
Susan
04/07/2022
Not as advertised. We had many faults during our stay that were not resolved for us - no working stove top facilities or aga, no wifi, broken chairs and insufficient glassware.<br/>Location was good though and it was generally clean although we did have to wipe down some dusty surfaces and wash some dishes
Matondo Fidel
19/06/2022
We really enjoyed our stay,
Lucy
22/04/2022
This is a fantastic property which is well maintained and impressively spacious. The bedrooms are large and bed very comfortable. The three sitting areas allow flexibility for everyone. The grounds are the most impressive with an exceptional plot of land that is absolutely tranquil. Thank you for a great stay.
Louise
19/04/2022
Lovely house, great size rooms, and bathrooms. Convenient location for Durham city, some road noise.
Nicole
28/03/2022
The Old Rectory is a great space for a large gathering.<br/>Spotlessly clean inside and the aga was lovely to come down to in the morning.<br/>The beds were so comfortable and the properly laundered bed linen was appreciated.<br/>One small point, there were no cooking basics so bring salt, pepper and anything else you need for cooking!
Rebecca
18/03/2022
Everything! What an outstanding stay!<br/>N/A
Jim
23/02/2022
Great house, loads of space and comfy beds.<br/><br/>Super easy to get in to Durham using the park and ride just up the road.
David
20/02/2022
Had a wonderful stay. Really well located, fitted out to a high spec, and the garden and tennis courts were fantastic - would really recommend.
Jen
17/02/2022
We had a fantastic stay, plenty of space. <br/><br/>A couple of issues upon arrival, however these were soon rectified and the owner handled it brilliantly. <br/><br/>We would love to return.
James
18/01/2022
Esther
13/01/2022
This house is an amazing find: it's huge! The rooms are all massive, with plenty of space. We used it to host a retreat for work colleagues, and the great wifi really helped too. Worth noting it is on a very busy road, though the view out to fields out the back do make up for it! The kitchen could be better equipped to ease cooking for large numbers, but in general it is a fabulous property. Thank you!
Jasmine
02/01/2022
Great house beautifully decorated and cleanliness was great. Close to the city and in walking distance of a nice pub. Would definitely visit with friends again. Thanks
Sean
28/12/2021
A large property which lends itself ideally to a large property or a number of smaller groups. A combination of open plan (tv lounge, dining area, and kitchen), with a number of other separate tv lounges. Something for everyone. Well located for Durham and surrounding area. Two pubs within walking distance. Absolutely fantastic property.
Chris
19/12/2021
What a lovely house. Easily large enough for 10. Enclosed gated private grounds with tennis court and parking for at least 8 cars. Modern and warm with period features. Close to the local pubs, takeaway, village and childrens play area and only a few miles from Durham. When we arrived it felt like we were arriving at an hotel with towels and toiletries laid out in our huge bedrooms. You could see it had been well looked after with a modern kitchen and bathrooms. It was so lovely and clean and the beds were so comfortable. Fantastic communication with the owner. We had a brilliant time there. We will be returning.
Jenny
07/12/2021
The house was beautiful <br/>There wasn't any pans in the kitchen and we wanted to cook a Christmas dinner so had to buy pans
Judith
12/11/2021
Beautiful property, superb furnishings and lovely comfy bed , great communication from host we could not fault it even stayed an extra night which was so kindly accommodated <br/>Can't wait to return in the future!!
David
31/10/2021
This is a lovely property in a pleasing setting and is on the whole maintained to a high standard. Its location made it an ideal base to tour the renowned national historic attractions in the area.
Zoe
22/10/2021
This is a fabulous house,with the comfiest beds I've ever slept on! We look forward to visiting again!
Gillian
03/09/2021
The house certainly lives up to expectations. We had an enjoyable stay with two mums and 4 teenagers. Plenty of space for us all to be together or apart. <br/>The bedding and pillows were all clean and very comfortable. Super fridge with ice maker and plumbed for cold water on tap. We took our own hairdryers but they were available in every bedroom.
Carl
30/08/2021
We had a really great stay at the Old Rectory. There was plenty of space, the beds are comfy, the kitchen was lovely and the surrounding areas are very beautiful for walking. Would definitely recommend.
Elizabeth
27/08/2021
We loved our stay. The house is beautiful, much bigger than it looks in the photos, and the grounds are also really big. We enjoyed the tennis court. There were ten of us staying, and we had plenty of space to all be together, but also to have some time in different rooms doing our own thing.
Daniel
23/08/2021
Stunning property within a 5 minute drive of Durham city centre.<br/><br/>3 families with 6 kids under 5 yo. Plenty of space in bedrooms and loads of communal space. Kids loved running up and down the corridors. <br/><br/>Garden is huge and tennis court is a great bonus.
Zohra
15/08/2021
A beautiful home within easy driving distance of lots of hikes and walks. The tennis court was a lot of fun and the Aga was great to use for cooking. Bedrooms and bathrooms were clean and the living rooms were really comfortable. Good for lots of people staying together, and very quick communication whenever we needed anything.
Alastair
09/08/2021
Lovely house a short (5 minute) drive from Durham City centre - plenty of space to easily accommodate two families with lots of different rooms for personal space when required. House is furnished to a very high standard, with lovely clean bathrooms, and has a really nice warm, cosy feeling, despite being roomy and spacious.
Rhona
30/07/2021
Stunning house. Is in a secluded spot in huge grounds but is beside a busy road which cannot be seen due to lots of trees but can be heard. <br/>Clean. Comfy beds. <br/>So much room for our party of 5. <br/>Was a 10 min taxi ride to Central Durham costing approx £15.
Kirsten
25/07/2021
Beautiful house. Great stay.
Gillian
19/07/2021
This house is so comfortable, stylish and spacious, we had beautiful weather while there so made full use of the tennis court. Very relaxing stay.
Louise
16/07/2021
Very lovely house, in a beautiful setting. The house was very clean and has boutique style decor. Plenty of room for a large family. We enjoyed our stay here, and we were very central to Durham town centre, restaurant's and other sites and attractions. I would recommend.
Kate
05/07/2021
The Old Rectory has plenty of space for large groups in a private setting easily accessible from Durham. All of the areas of the house are of generous size, with a particularly lovely large kitchen which is perfect for socialising.
Neil
02/07/2021
Lovely property which has been updated to a high standard. <br/>Lots of space for a party of 10. Good location with Durham city centre only about a 5 minute drive.<br/>Huge gardens which gets sun all day.<br/>Well catered for wheelchair access, with downstairs bedroom & bathroom with no issues moving from room to room<br/>Communication with host was excellent.<br/>Would have no hesitation recommending or staying there again
Wayne
28/06/2021
Great place set back from the main road, giving you a good sense of privacy. All rooms a good size, with a nice area to congregate in the kitchen dinning area. <br/><br/>All rooms are furnished and decorated to a good/high standard.<br/><br/>The outstanding space is great, with a BBQ area and a tennis court. <br/><br/>Our family really enjoyed their stay, thanks!
Hannah
15/06/2021
We thoroughly enjoyed our stay, the photos do not do this house justice for how big it is, plenty of communal space and lovely bedrooms. We enjoyed a bbq with the weather being so nice our stay and a game of tennis <br/>Would definitely recommend to anyone considering
Daniel
12/05/2021
Beautiful house, probably larger than it seems in the photos.
Lauren
03/05/2021
Absolutely stunning house even better than the pictures!!<br/>Perfect for our family trip, good communal space but also plenty of room to spread out. Outside space &tennis court was perfect too.<br/>Well located for visiting Durham and the surrounding area.<br/>Newcastle easily accessible too.<br/>Some great pubs and restaurants nearby... takeaway for us due to current rules.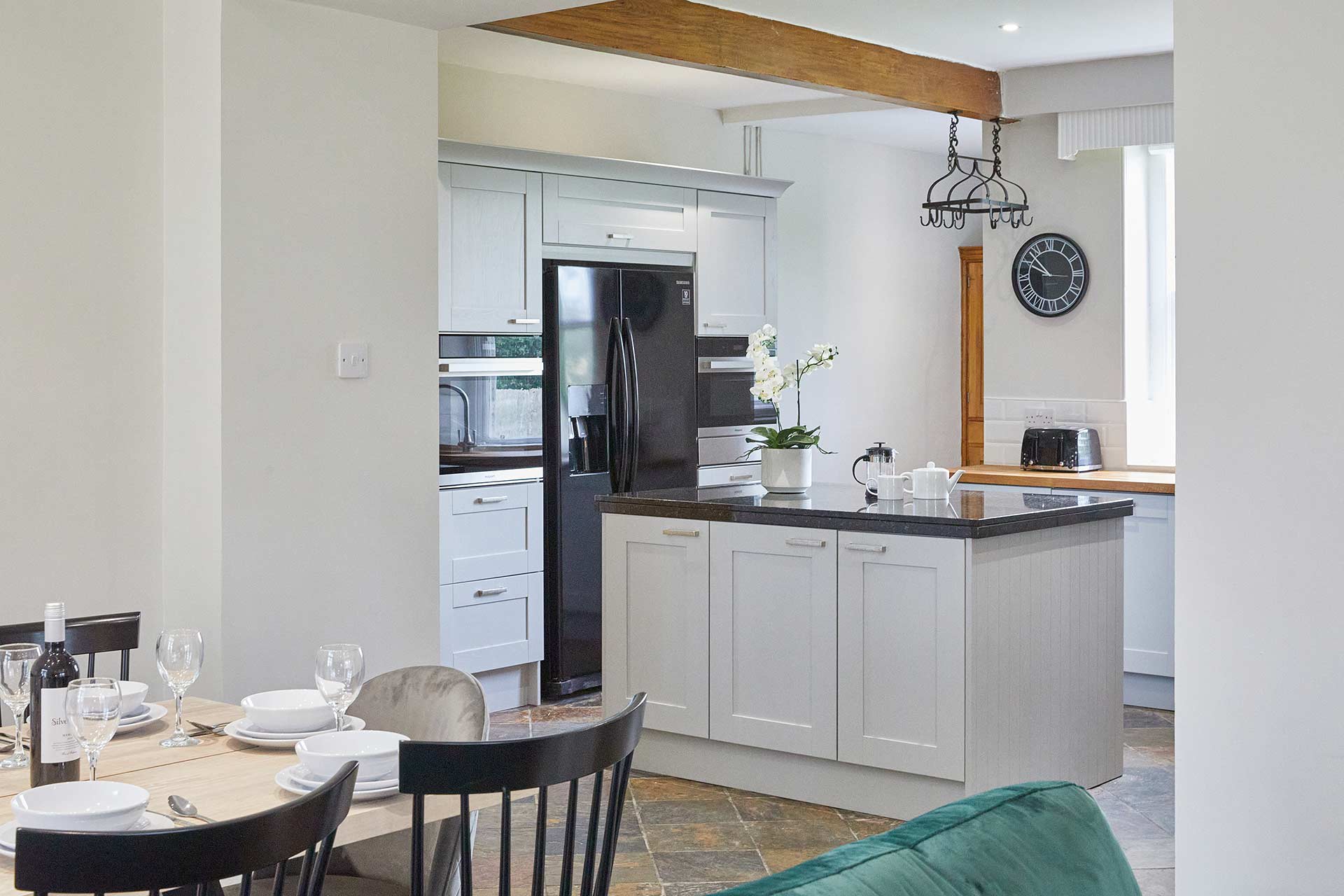 Home Truths
The Old Rectory is a five minute drive from Durham City Centre, but it's a little too far out to walk into the city.
Access to The Old Rectory is immediately off the A691 which is a busy dual carriage way, so guests will need to take care when approaching the gated entrance, and when leaving.
In retaining its original features, The Old Rectory still has single glazed windows throughout. However, the large central heating system and abudance of throws will keep you warm in the winter months.